Yato's Status
{{ Teleportin' to Hiiiiyori!!! }}
Chapter 66
}} Manga updated after a month long Hiatus! :D
Ouragami Roleplay
}} Our first private RP is ongoing in the
RP Thread
!
Masquerade Roleplay
}} on hold until further notice~!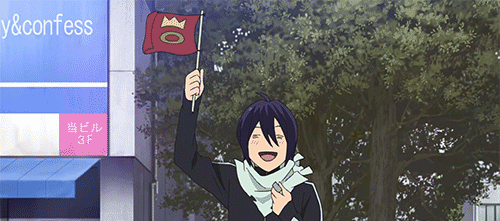 Welcome to the Yato Club!
Love Noragami? Want to talk to someone about it?
Delivery God Yato at your service!
What do you like about Noragami?
Favorite character? Favorite Episode/Chapter?
Anime/Manga/Both?
What would you wish for?
Noragami Hub!
I made us a chat to gather any
Noragami
fans out here. Let's talk about its fantastic anime and/or manga!
So I'll keep working at this and make this as big as a shrine! I'm thinking fan features, coin draws/sketches, roleplay links and other stuff.
If you'd like to contribute let me know and I'll answer your call! I'm hoping to set up a roleplay, and make some icons and doodles way later on. In the meantime I'd love to chat~
Remember to ping
@
LordYato
Never heard of me? Or Noragami?
Noragami
, also known as "Stray God", follows my adventures as a god of calamity. I grant people's wishes for only 5 yen to build some recognition for myself!
As the story goes, I meet a girl named Hiyori Iki whose soul often comes loose from her body, and a wandering spirit I titled Yukine to help me on my missions. Ever since I met these two I feel like my luck's turning around for the better!
You meet other crazy gods like sweet Kofuku, old man Tenjin, and crazy lady named Bishamon. You'll also meet a stray soul who's been haunting me for centuries...
Anyway aside from the humor,
Noragami
's got a great cast of characters, impressive music and animation courtesy by studio
Bones
, who also did
FMABrotherhood
and
Soul Eater
. Lots of character development and the manga continues to hit you with the feels!
Check it out when you get the chance~
And now Noragami fans of Flight Rising...