The STOGWEN Project
v2.
"
Hello? Hi. Have you seen my father? I haven't seen him in a while, don't know where he has gone. Have you seen him? Last I know his clan was involved in some sort of dispute, and well, I fear the worst. He never knew what we were trying to do, and I figure if he has gone, the best I can do to honour his memory is carry on the legacy as his eldest surviving heir. Oh. Yes, I should elaborate. My name is Audacity. We, well, me and some of his other children, noticed that our family tree was getting quite big and so we decided to see how BIG our family could get. Thing is, we lost track. We were doing pretty well, had one sketched out and then it got SO BIG we needed to digitally store the information. Good job I was part of a clan in the Shifting Expanse so we could do that back then. Then well, things happened, and I don't want to talk about it but that's all gone and I have no idea who and where my family are. I'd like to find them, and yeah, maybe rebuild it.
"
The Coatl takes a scroll of paper out from where it was tucked into his elemental fire sash, thrusting a picture of a Coatl in your face that looks very similar to himself.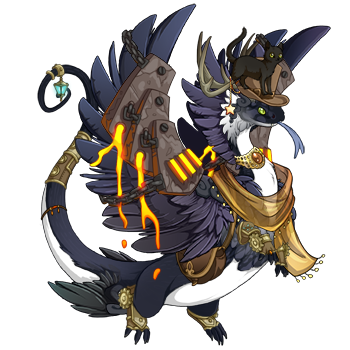 "This is Stogwen. He isn't particularly intelligent or impressive - he's good at blacksmithing, and he enjoys the finer things in life. He's rather...oblivious. So, do you know any fine Coatls who may be interested in contributing to such a fine legacy? Or have even heard about this, well, situation. I'd love to meet them, find out if they're related or if they want to become related."
He folds away the paper, tapping it against his foreleg.
"Oh, and if you see my father? Don't tell him. Oh, and of course let me know. I want to know that he's alright. If he's still with us."
---
The PLAN
The Stogwen Project was originally created as a joke among friends. The original owner of Stogwen was @
Arcaii
, who gave her friends @
Sonne
and @
Ivysaurus
the his offspring when they joined the site, and then later gave Stogwen to @
Murasaki
, who had also joined at this time. I do not remember how it started, but amongst us we decided we wanted to do something with Stogwen, and so the project was born. Murasaki then went on to create the first thread, which can be found,
here
, with me serving as co-host to the project.
Below is a quote of the original intentions of the project:
Quote:
Our aim is simply to breed Stogwen's children and their children's children with random dragons to achieve world domination. This, of course, will create a giant chain of grandkids, aunts and uncles. It's going to be awesome. Our ultimate aim is to breed a generation 7 dragon with Stogwen himself, creating the ultimate jaime lanister dragon reacharound combo!

That is just a starting point, however - we need your help too!! This topic is for showcasing Stogwen's ever-growing family tree and all the dragons the project has resulted in, BUT we also have a sales topic (linked in the second post) where you can take hatchlings from this project for a small donation of your choosing! This allows potential mates from further afield and for Stogwen to spread his influence >:U

If you take one of his hatchlings and decide you want to join in and breed it for the family tree, let us know in this topic so we can note you down as a participant! c: You don't need to do anything special apart from breeding to be a participant (what you do with the hatchlings of your own dragons is your business), but it'll simply remember you as one of the members that helped Stogwen's unwitting world domination.
We salute you!
We reached reacharound before Murasaki stopped playing Flight Rising. We only did, however, complete this with Stogwen himself and a descendent*, and not further down the line. At this point, we likely do have Stogwen-descendants far enough back to breed with Stogwen's grandchildren or further, but honestly, I have lost track of the Coatls related. I attempted to track down every Stogwen dragon on my own for some time, adding them to a directory I created
after our family tree got too big
. I stopped after I reached the 1000th dragon, as keeping track of every dragon on that list, whether they were active, inactive, had been exalted or had reproduced was exhausting.
This is as far as we got with the old directory.
The Stogwen Project was THE FIRST community breeding project that started on Flight Rising, with no limitations except that for a
hatchling to be counted both parents had to be Coatls, with one of them a descendant of Stogwen
. Currently, our goal remains the same - to breed as many Stogwen dragons as we can. I do want to add a few more goals to this project, such as expanding into all the genes available on Flight Rising through breeding, and building up the lore for these dragons to create something personal for those who enjoy creating personalities and profiles for the dragons they own - but for now, I believe the most important goal is to bring this project back to life by drumming up interest in the project and tracking down active Stogwen descendents.
---
excuse my terrible graphics, if anyone wants to supply a better banner for us, please feel free to shoot my a message and we can work something out

*we do not support incest, this is simply a joke