Slalom Alpine Skiing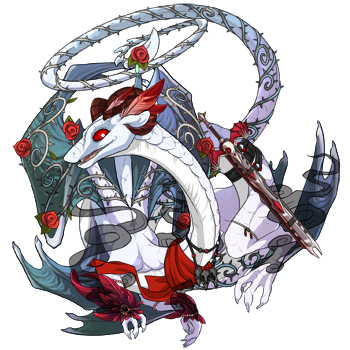 Aria didn't particularly like the cold, but that wasn't gonna stop her from rubbing victory in her clanmates' faces.
They had the nerve to dare her-- to tell her that they bet she wasn't gonna do it! She'd show them. She'd show them all.
She slunk up to the starting line, snatching the equipment she needed from the pile as she went; two short poles and two long skis well fit for a spiral her length. She settled herself down in a nice position, her tail thrashing miserably in the
crystal
snow as she waited. Glancing back towards her clan, she saw Rosenfeld slip some treasure to Sedge... betting on her, no doubt. Her gaze snapped forward again as the announcer began counting down. 3... Aria shuffled so that her skis were angled just right. 2... she set the tips of the poles farther in front of her. 1... she leaned forward drastically, thrust the poles behind her, and she was off!
The cold wind bit into her scales, and she furiously bit back. It was kinda stupid. The first gate rushed towards her more quickly than she expected, but she swerved through just in time to meet the next one almost head on. Her skis found their way around the gate's right pole, but her exposed elbow smacked right into it, making her hiss in anger. She spun to perfectly make it through the next gate, and breathed a sigh of relief when out the other side. She did it, that'll show them!
She focused her eyes ahead again. There were even more gates coming up, and she was already tired.
Her rage warmed her talons as she dug her poles into the ice yet again and shouted "Let's get this thing over with!"