Hi and Welcome!
Let's talk about
exalting
.
It's a huge part of Flight Rising, but some players- particularly new ones- don't like the idea. It can be a sensitive topic. But it's also one of the core mechanics of the game, and, ultimately, it's a positive thing.
This guide is something I've wanted to write for a long time. I'm here to clear up some common myths and misconceptions that new players might have about exalting, as well as talk about the many benefits!
---
What does it mean to exalt a dragon?

In the simplest terms, as a game mechanic:
it means removing that dragon from the game permanently.
An exalted dragon will leave your lair. It can no longer be sold, traded, bred, used in the Coliseum, dressed up, or otherwise interacted with. As far as the active game is concerned, it no longer exists.
According to Flight Rising's official lore, it's also the highest honor a dragon can receive. That's what the word
exalt
actually means: to glorify or elevate status. Your dragon goes to hang out with and serve their elemental god. What reward could be greater?
---
Why does the exalt mechanic exist?
Dragons on Flight Rising will never, ever die. They don't die of old age. They don't die of starvation. They don't die if they fall in a Coliseum battle. You can collect and customize dragons to your heart's content without fear of losing all the hard work you've put into them!
Dragons never become too old to breed, either, and there's no hard cap on the number of offspring they can have. You can produce as many eggs as you want, limited only by your dragon's
cooldown period
and your available lair space.
Lair space. That's the thing. It's not infinite! Everyone starts out with 10 free spaces. The rest costs money.
A lot of money.
And even then, the maximum number of dragons you can own is limited. Even if we assume that everybody maxes out their Lair and Hibernal Den slots, a grand total of 615 dragons per player is not enough room for every dragon that will ever exist.
A theoretically infinite number of dragons, but only so many each player can hold... the extras have to go
somewhere
. In another breeding sim game, this might mean your critters are eventually lost beyond your control.
But here on Flight Rising,
the choice is always yours
.
---
Are you sure it's not death? Exalting sounds kind of mean.
An exalted dragon goes to 'serve' their elemental deity, which sounds pretty vague. But here's the
official word
from the admins:
Aequorin wrote on 2016-08-22:
Quote:
What does it mean when a dragon is "serving" their elemental deity? Is it like a personal assistant position?
Dragons can serve in many ways. Most will relate to the upkeep of the elemental domain, and efforts to try and expand the territory: positions like warriors, mages, healers, scouts, messengers, provisioners, researchers, builders, excavators, craftsdragons, etc.
Don't worry. Your dragon isn't being killed, banished, or thrown away. That said, exaltation
is
the only way to remove a dragon from the game for those players who
want
to include death in their personal lore, so you may encounter it on a case by case basis.
In the end, you're free to decide for yourself what it means to serve as an exalted dragon, but it doesn't have to be grim.
---
What are the benefits of exalting a dragon?

TREASURE.
An exalted dragon will always leave behind some treasure for you (with the exception of your progenitors, the two dragons you got when you signed up, who award nothing) and maybe even a gem if you're lucky. Think of it as selling your dragon back to the game the same way you might autosell items directly from your Hoard.
Dragons who have been trained will award more treasure
depending on their level
, but even a level 1 hatchling is guaranteed to give you about 2000 treasure at least.
This is a great thing, because even if your computer can't handle the Coliseum or Fairgrounds you can always earn money by exalting. It also means that dragons will always have a minimum value- no matter how many millions are generated throughout the game, they will never become completely worthless!

LAIR SPACE.
As I said before, lair space gets
ridiculously expensive
the further you go! Exalting a dragon will free up that space. It's not unheard of for players to do lair-wide 'cleanouts' and mass-exalt dragons they don't enjoy as much as they used to. It's way easier than saving up a million treasure or more for the next lair expansion!

DOMINANCE.
Exalted dragons contribute to your Flight's weekly
Dominance tally
. If your Flight has the greatest ratio of exalts for that week, you get bragging rights, market discounts, bonus treasure, extra gathering turns, and other goodies!
Dominance battles are a huge part of Flight Rising, and the strategies involved in a conquest push could fill up a guide all on their own. If you want to learn how you can help support your Flight's Dom efforts, try looking around in your private forum!

SERVER SPACE.
Exalted dragons don't have bios. They don't have stats. They don't have energy levels or breeding cooldowns to calculate. They take up less space on FR's servers than active dragons, which means less strain, which helps keep the site running smoothly!

INCREASED DEMAND.
How do you drive up prices and demand for dragons? By clearing the cheap excess from the Auction House. It's generally hard to sell dragons for a decent price because there are just so darn many of them- so it's good to do a little housekeeping now and again!
It's also not unheard of for some breeders to exalt the competition, keeping certain genes or color combinations rare in order to control a niche market. (This won't work in the long term, everything becomes more common over time- but it can be a viable strategy for some hatcheries to get in first on a new trend.)
---
Are some exalted dragons worth more than others? Does rarity matter?
Breed, color, or gene rarity generally does not matter. A 'rare' breed like a Wildclaw is not inherently worth more than a 'plentiful' Guardian.
There are daily exalt bonuses, however! Check the right-hand side of FR's front page, below the Random Dragon. Every day, one breed, one color, and one gene are randomly chosen, and exalting a dragon that meets one or more of these criteria will give you some extra treasure on top of what that dragon would be worth normally. There's no boost to Dominance from the daily exalt bonus, but a little more money is always nice to have!
Dragons who have been levelled up in the Coliseum
are
worth more, in both payout
and
how much they count towards Dominance- but we don't know the exact formula and the admins aren't telling!
---
How do I exalt a dragon?
If you look at the profile of a dragon in your lair, you'll see this button in the top right:
Be very careful with clicking this button- the game will ask you to confirm, but only once, and if you select 'Yes' your dragon will be off to serve the gods.
The exalt button
cannot be clicked
if your dragon is equipped with any apparel, a skin or accent, or a familiar, or if they are currently sitting on a nest or listed for sale on the Auction House. Applying at least one piece of clothing or a critter buddy is a fantastic safeguard for any dragon you don't want to lose on accident!
---
Can I exalt a dragon from a different Flight?
Whose 'team' do they count towards?
You can exalt a dragon even if they are not from your Flight, and they will always be credited to your own elemental deity. A Plague dragon exalted by a Fire player will serve the Flamecaller and boost Fire's Dominance, for example.
If you change Flights, however, all the dragons you previously exalted will appear to move with you and serve your new deity, since the game will always associate them with your account. You will see this change if you visit the exalted dragon's page.
And yes,
this can affect Dominance
too!
Aequorin wrote on 2016-03-07:
Quote:
If we exalt dragons then change flights in the same week, do those dragons attribute to the dominance of our old flight or the one we just moved to?
They would be attributed to the flight that you are currently in at the time that dominance is calculated for that week (saturday night.)
---
Is exalting permanent? What if I exalt a dragon by accident?
You can't just bring any exalted dragon back anytime you want, but there are exceptions:
As of October 25, 2017, it is possible for players to use
this page
to have their progens or recently exalted dragons returned without the hassle of going through the Contact Us form.
As stated on the page, there are some restrictions- you need to have available space in your lair, and while progens are free to restore, other dragons require a treasure fee in proportion to their level. Non-progen dragons must also be recent exalts (within the past 14 days) and you can only restore one every 90 days.
Despite these exceptions,
you should consider exalting a permanent decision.
Think carefully before you click.
You should also be very careful when lending your dragons to someone else for things like breeding or training. It's not against the rules to do this, but it's considered an unsupported transaction by FR staff.
The
official stance
is that a dragon belongs to whoever's lair it's in- meaning if the other player exalts your dragon (or otherwise fails to give it back) the admins can't help you. You can only appeal for dragons you have personally exalted on your own account.
---
Someone bought my dragon and exalted it. Why? How can I prevent this?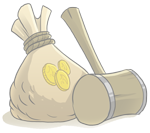 If you put dragons up for sale on the Auction House, or otherwise trade/give them away, there is always a chance they'll be exalted. Especially if they're cheap. You may hear the term 'fodder price' thrown around the forums. 'Fodder' refers to a dragon that is bought or bred for the sole purpose of being exalted.
On the AH, this is generally considered to be anything under 10,000 treasure. Below this price, dragons can be quickly trained to level 7 or so and exalted at a profit. Above this price, the payout becomes less worthwhile for the time spent training. (
Here's that payout chart again.
)
Profit exalting is a major source of income for many players. It's not personal, and it's not a commentary on a dragon's looks- it's just the nature of the game. Very cheap dragons will almost certainly be exalted. During especially heated Dominance battles between two Flights, even more expensive dragons may be bought and exalted at a loss.
You can try listing your dragons for more than 10k but it's important to remember that no price is a complete safeguard against exalting. A 500k dragon can be exalted just as easily as one that costs 5k. And once a dragon leaves your lair, it is no longer your decision to make. The only way to ensure a dragon never gets exalted is to keep it in your own lair.
---
Can I enforce a Do Not Exalt rule on dragons I sell or give away?
No, you can't
. Harassment is one thing, and you can and should report a player who is giving dragons rude names or exalting them specifically to target you (this is called 'spite exalting' and it is against the rules), but it goes both ways- you can't control how other people play or publicly shame/blacklist them for what they do with
their
dragons.
Newbies tend to accumulate a lot of 'free gift' dragons from older players. It's nice to have a few when you're just starting out and don't have much money to buy or customize dragons otherwise. It's only polite to keep them for at least a little while but, new players, don't feel pressured to keep a gift dragon forever! Your lair space is precious. As you earn treasure and get the hang of Flight Rising, you'll be able to fill it up with favorites instead of freebies!
---
What's all this about exalting unnamed dragons?
You see it on the forums a lot. People have feelings about it. They don't like the look of 'Unnamed' stuck on their lineage, or feel sad that the dragon wasn't 'wanted' enough to receive a name. Again, it comes down to personal preference and playstyle. Players are not obligated to name their dragons to the seller's liking, or at all.
Sellers should name dragons before putting them on the Auction House if they feel strongly about unnamed exalts. Buyers usually don't mind a previously named dragon, a Scroll of Renaming isn't that expensive!
If there are nameless or weirdly named exalts stuck on your dragon's lineage, unfortunately there is no way to hide those right now. The admins tried this feature out
back in 2014
and it was very short-lived because it caused the whole site to lag. We may see it return as the recode continues, who knows? For now, naming dragons yourself is still your best bet.
---
Is there a way to see the dragons I've exalted?
Even though an exalted dragon no longer exists in anyone's lair, it still has a viewable profile! By clicking through your other dragons' family trees or plugging their information into the
Dragon Search
, you can visit their page anytime you want!

As of
August 16, 2019
the old achievement system has been deactivated. The achievements for exalting a total of 10, 50, and 100 dragons are no longer obtainable.
You can view the total number of dragons you've exalted in your
Account Settings
. There's currently no way to view a list of each specific dragon, though it's a popular suggestion. You can always keep track of your exalted dragons in a word document or spreadsheet in the meantime!
---
I think I've covered pretty much everything- let me know if there's anything I missed or need to clarify further! If you felt nervous or guilty about exalting dragons before, I hope this thread has helped ease your mind. It's a major aspect of the game. It shouldn't be taboo. Personally, I think it's a brilliant solution compared to some other petsites I've played, and it's helped keep Flight Rising enjoyable for over six years where similar games have lost my interest.
Go forth and exalt!