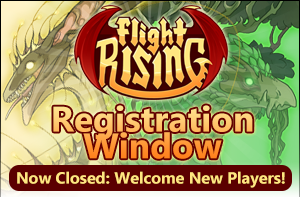 Flight Rising
's January registration window is now
closed
. A big welcome to all of our new players!
Click here to read more about today's update.
New players, if you don't see your registration email, please check your spam folder. Hotmail/Outlook Customers
: Delivery to hotmail/outlook e-mail accounts seems to be hit and miss for
Flight Rising
registration e-mails. Please use a different e-mail address to sign up if possible. If you have registered with an hotmail/outlook e-mail address and were unable to complete your sign up process, please
contact us
to resolve your issue.
---
Table of Contents
Resources
Rules
"Rollover"
Site clock
Customer Support

How to contact
How to submit a ticket



Treasure & Gems
Forums

The Help Center
The Introductions Forum
The Bug Reports Forum
Gameplay
Dragons

Progenitors
Feeding Dragons
Breeding
Exalting/Dominance



General

Gathering
Familiars
Auction House
Marketplace





---






Resources







Where can I find the rules?



You can find our rules and Terms here:

PLEASE NOTE: Use of the Flight Rising website and forums constitute agreement to the above rules and policies. Threads are moderated and accounts actioned as needed, as laid out by our rules.





What is "rollover"?



Every night, at 00:00 server time, the site is inaccessible for approximately thirty minutes. This is our maintenance period. Rollover resets your dailies.





What exactly is "server time"?



The Flight Rising website runs on a 24 hour clock and is set to the Pacific time zone. Our clock recognizes Daylight Savings which means the server time will alternate between UTC-7 and UTC-8 accordingly. The server time is displayed in the upper left of every page.





I need customer support, what do I do?



If you need staff assistance or would like to submit feedback, send our Customer Support team a message through Contact Us.





How can Customer Support help me?



Our Customer Support team is able to assist Flight Rising players with many issues. Here are some examples of common player tickets:


Undelivered gem purchases
Account recovery/assistance
Harassment or other rule violation reports
Exploit reports
Restoration requests
Feedback/complaints/compliments






How do I submit a ticket?



When submitting a ticket, please use the email address registered to your Flight Rising account. Be sure to provide Support with as many details as possible:


User ID#
Dragon ID#
Message or thread ID#
Dates, times
Any applicable links


Tickets are processed based on severity and the order they are received. Tickets submitted without any of the above information may take longer to resolve.





What is treasure? What is it used for?



Treasure is Flight Rising's primary currency, earned exclusively through gameplay. Treasure is used to purchase the majority of the items on the website, including:


Lair Expansions
Nest Expansions






How can I get treasure?



You can acquire treasure by playing the game, including:


Exalting your dragons when participating in dominance.
Vendoring/Selling items from your hoard
Bringing Crim the items she asks for.
Answering Tomo's Trivia
Selling items or dragons in the Auction House for treasure
From chests.






What are gems? What are they used for?



Gems are Flight Rising's premium currency. Gems are used to purchase:





How can I get gems?



You can acquire gems in the following site-supported ways:


Purchasing gems through the Gem Exchange using Paypal
Selling items or dragons in the Auction House for gems
From chests, primarily Gilded chests
A small chance from Exalting dragons
Participation in site contests


Paypal is currently the only method to purchase gems. We are looking into other methods. We apologize for any inconvenience this may cause.

Some players trade treasure for gems or privately trade items for gems but be advised that this is at the player's own risk. Flight Rising does not currently support these types of transactions and our Support staff will not be able to assist in restoration in the event the trade is not completed. You may still report the incident to be actioned.

If you purchase gems through Paypal and do not receive them, please send our Customer Support staff a message through Contact Us and include the transaction ID# when you do.



Where can I get started in the forums?

The Help Center is a great place for new players. Volunteer moderators and forum regulars are ready and waiting to help answer your questions. Check out the stickies, read through the forum, and don't hesitate to ask a question!

Another great forum to check out is the Introductions Forum! Get to know your fellow players and even a little bit about the volunteer moderator group!

If you've found a bug, the Bug Reports Forum is where you want to go. Our software engineers review the forum daily. While you may not receive a personalized response to your report, please know that all reports are documented.



(NOTE: Please remember that Flight Rising's Terms of Use and Multiple Account Policy prohibit registering more than one account per person. Players must be 13+.)
Flight Rising Developer
Project Management
|
Engineering Team Cheerleader
|
UI Designer