I am currently entertaining offers for my gen 1 imperial, Asmodeus.
As I am in the process of leaving most of FR, this guy is sort of just rotting in my lair. I'm sure that someone else might be far more entertained with the notion of keeping him around, and I would rather he go to a good home than continue to languish here, doing nothing except looking pretty.
All the fine details:
Asmodeus is a Gen 1 imperial. He has a five digit id: (#45126). He has a lot of babies, cause he's old. of the 39 offspring he has though, only four of them are Unnamed. I don't really care on this aspect but I know that it's a concern of some users.
Here he is!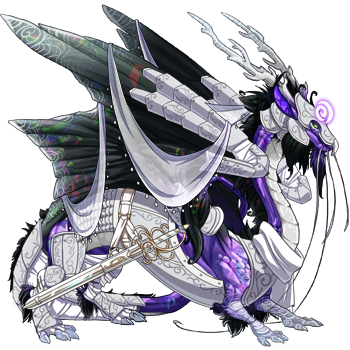 What am I looking for:
Gems
Aywas GP
Gem to Gp Ratio: 100 Gems = 1 GP
Treasure to Gem Ratio 570 =1 gem, 45kt = 1GP
As for items, most of what I'd be interested in consists of breeding and custom makers for Aywas. As I am not super active here on FR, and don't plan to be in the future once most of my materials have been sold, you might be better off saving your high ticket items for later. That being said, the Skycat familiar and Cloudy Wings still remain at the top of my want list for FR.
Edit: Please note that while I like both of the mentioned items, I value them at about 100k. I am only weighing them as slightly more favorable in offers as something I would like to keep. Including one or both is not considered an Autobuy, nor do I really have one.
You are welcome to inquire further if you have questions about item payment. I don't bite.
There is currently another 6 digit imperial on the market offered by user Manga (?) that is going for nearly 380k worth of gem value. I don't expect this to go cheaply.
Edit: I have decided to end this auction today at Noon EST.
Current Considered Offers:
Saryina- 60k gems pure, 2 cloudy wings, golden idol. (400k)
Anonymous User -25kg pure, Gilded Crown, Cloudy Wings (265k)
Confectionary -20kg pure, Cloudy Wings, Sunchaser Jewelry (190k)
Kaitii -55kg pure, Cranial Hornhelm, Sunchaser Jewelryx2 (295k)