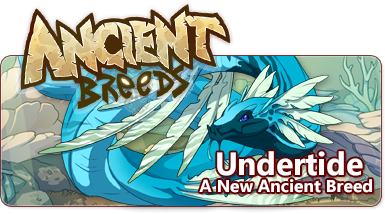 Deep beneath the waves, the silence calls...
[Alt text: Banner image with an eel-inspired dragon. The dragon is looped around with its head centered. The dragon has frills on the sides of its head and beneath its wings. Overlaid on the image is the text: "Ancient Breeds" and "Undertide A New Ancient Breed."]

We're excited to announce that the next addition to our
ancient breeds
system, the
Undertide
, have now been launched. Ancient Breeds are a way for the
Flight Rising
team to
release more regular dragon content
, with a few
restrictions
to make that possible. You can read about the ancient breed system in our
Developer Update
on the subject.
Undertide
Voluntarily estranged from their deity and the world, Undertide dragons have found a new family deep beneath the waves. When the Tidelord falls silent, they emerge to aid in the search for the sake of dragonkind and their found family.
[Alt text: Image is of three Undertide dragons displaying the hatchling art, the male pose art, and the female pose art.]
You can read more about the emergence of Undertide in our short story,
Echoes of the Deep
, and gain some knowledge of their characteristics in the
Encyclopedia
.
If you're looking to change your dragons into Undertide , breed change scrolls may
be unearthed in the Deepsea Dive in Arlo's Ancient Artifacts.
To celebrate the debut of the Undertidebreed, all active players can visit
Galore's Glorious Gifts
and pick up
two (2) free Clanbound Undertide breed change scrolls
to welcome these deepsea leviathans into their lairs!
You will have until Tuesday, November 29th @ 06:00 server time to claim your gifts
.
Undertide Genes: Unique & Parallel
It wouldn't be an Ancient Breed release without an impressive slate of
unique
and
parallel
genes!
[Alt text: Image is a gif of an Undertide dragon in an underwater scene. The gif part is the rotation of various Undertide genes as a preview for players.]
Unique Genes
You can pick up the following
unique
Undertide genes in the
Treasure & Gem Marketplace
:
You can create the following
unique
Undertide genes using
Baldwin's Bubbling Brew
:
You can find the following
unique
Undertide genes by battling monsters in the
Coliseum
:
Parallel Genes
In addition to the unique genes above,
Undertide can also exhibit some parallel genes
that resemble those found in modern dragons. These genes will be available through the same type of gameplay (with the exception of boulder, myrid, tide, and foam, which are available through Baldwin) that their modern counterparts are. The
parallel genes
releasing today are:
Undertide Forum Vista
You can show off your newfound Undertide appreciation by sporting the following
forum vista
, now available in the
Treasure Marketplace
:
New Emojis
A set of frilly
Undertide emojis
are now available!