CosmicFalcon's Clan
Don't go gently into the night.
Clan Info
All projects on hold until Max lair space reached
For 140 Slots: 120,376t / 1,120,000t
197 hib den tasks
I'm active, just bored.
- Only feeding breeders and coli dragons when needed.
- Arane to Plague: 1/22/22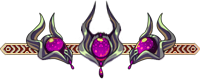 Professional Edgelord

"Anyone can fit in among fallen stars."
*Enter Song Here*
FR time: +3
Our Story
Settled somewhere between Arcane and Shadow where the Star Wood Strand mingles with glowing fungi, there is a cave where a natural cavern system runs deep into the ground. This is where the Clan Of Fallen Stars begin.

It can not be found by looking, only through happen stance.

This is where fallen stars gather. Where dragons who don't really belong anywhere or are unwanted come to live. Where strange beings of myth and the otherworldly gather.

There are all kinds of creatures here, from every region. From every reality or realm. They each have their or stories and motives, no two are ever the same.

The forest and fields around impossibly large, home to small off-shoots of the cavern. A place where Shadow and Arcane touch is unthinkable. Maybe the clan doesn't really exist.

All outsiders know, is from strange travelers who claim they've seen a place where starwood trees and wispwillow mushrooms grow.



- Lore isn't dictated by the cannon lore to Flight rising. I write as I wish and how I view my own dragons.
- We have running water, heat, AC and modern technologies.
- Atheist.
- Dragons have human counterparts even if not shown.
- If the lair ever seems to be 'hungry', never fear. They're all cooking, hunting and going on with their lives as normal.
- No random friend requests.
- Active friends only. I don't care if you feed your dragons, just log on once in a while.
- Need an arcane nest? Just ask.
- Need a cauldron? Just ask.
- Want a pair bred? Ask.
MEMORIAL
INSERT TEXT OR IMAGE TO BE CLICKED HERE
WISHLIST

- Any gifts are greatly appreciated!
- Anything and everything.



GOALS
-
- Have enough extra space to sell hatchlings.
- Keep 1 hatchling from all my pairs because I love my dragon children. No matter how they look, who they are or where they go.
- Gene all my dragons that I want to change a gene on.
- Complete bios for all permanent dragons.
Dream Dragons
Not Found
clan info formatted by dystopisaurus
Links to Remember
Shiny things
Flowery things
Collection of various bio temps, some are broken
Kaldwin's bios
Clan info banners and dividers
Pride Flags
Starkinder's
Delamire's
Simple Bios
Most Used Temp
Meias's
Crystal's n' temps n' ****
New Mibella's
Old Mibella
Single Temp
Pride Badges
Small, Pretty Bios
Recolors #1
So Many Recolors
Lots O' Recolors
fake/recolored items
Free Colorable Adopts
Mixed Element Symbols
Dragons with bio resources
NOTN Bio Temps
Bio Images
Variety of free bios
IRex's Free Bios
Lore Ideas
Xem's Templates
Bio
Bio Resources
Bio
Bios
Cute Badges
Bios
Flower Dividers
Heckin' Gay Snakes
Deme's Fake FR Items!
Coloradoblue bios
More Bios
Bio and resources
Simple but Nice
They're alright
Wax seals and Banners
What nice...event banners...
1nfestation's Bio Templates
Flight & Species Themed Bio Templates
Monochrome Rose
putri's bio resources
Sorky's bio stuff
Coding Color Guide!
Spooky bird skull
Food - Goo
Materials - Ooze
Apparel - Slime
Familiar - Muck
Other - Sludge
INSERT TEXT OR IMAGE TO BE CLICKED HERE
Important note:
To Devs
- I use several devices.
To Everyone:
If I ever go inactive on the site, don't feel bad. I'll always be deeply attached to the friends I have here and my dragons. Just so others know I was here and that I cared.
- Sincerely, Falcor.
"Guys, Arcane has pink eyes. At least half of these dragons are high."
"DO YOU KNOW DA WAE!?


Recent Comments
Hey, both the hawks and the toads are maxed out. I see the breeding projects still on-going. Sorry they haven't produced either project child yet. I might consider breed changing them in future to make things easier.
Delete this comment.
Report this comment.
Add this player to your Block list.
This user is currently active.
This user is currently idle.