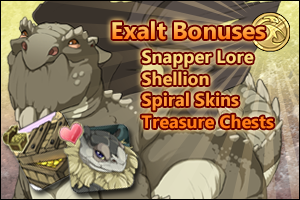 Exalt Bonuses
The elemental deities are now bestowing
extra boons of treasure
in exchange for bolstering the front lines. Each new day, dragons that are exalted and meet any of these randomized criteria will bestow more bountiful rewards!
Check the front page
for the day's selected categories and earn yourself some bonus riches!
Snapper Lore
Shellions
Two denizens of
The Mire
have come to light. The Shellion and Mistwatch Shellion will be popping up around site in
The Marketplace
and treasure chests.
Skin Selection
Two new skins are available in the
gem marketplace
. Pick one up today to give your spirals a fancy coat of paint!
There's gold in them thar hills!
Dragons have lately been unearthing some pretty valuable containers! Three new chests are now available to find when your
dragons dig
. Good luck!
Updates & Fixes:
The issue that caused many familiars to require multiple bond attempts has been resolved.
Dragon energy now falls at a rate of 1 energy every 6 hours (up from 1 every 4). As a result, dragons should now require 2/3 the food they previously did.
The Snapper F pink underbelly gene now displays correctly.
The clanbound scatterscroll reimbursements are now rolling out.
Rewards for all Kickstarter backers who backed at the button or bestiary reward levels are in the mail. The first wave of rewards for backers of "All the Things and more" has shipped out, with the second half due for shipment early next week.
Flight Rising Developer
Best Artist Not Allowed to Art | Business Ops | Engineering