@
Decaffeinated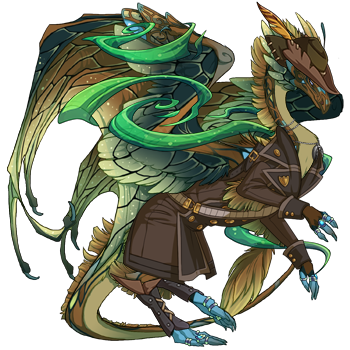 Oh, how people tired her.
Tarnish had long ago accepted the ambassador job, despite knowing it involved socializing. Her plan was a good one, she thought – accept the position for the most far-flung allies to her lair. That way she could spend days and days on the road alone, and never have to worry about the others in her clan.
She hated worrying. She had spent her life cultivating her mind so that her own problems never shook her, but had somehow never managed to apply that same skill to the problems of her friends. Their pains and jealousies, their bickering and gossiping, even their confusing joys, all of them pushed her own emotions round and round until she hardly felt like a person at all, more like a still pool disturbed by even the slightest drop or breath of wind.
It was utterly exhausting. So, she chose travel.
And it worked.
She cherished her solitude, savoring the wind in her feathers, the hot and cold that made her sweat and shiver – so real, in comparison to the tides of feeling that had haunted her until now. She performed her duties with as much speed as possible, delivering messages and attending meetings as commanded but never lingering in the clans, never accepting invitations to eat with others or explore the creations of the dragons she tended.
But of course, something had to spoil it.
Night had fallen, but she didn't feel like stopping. She was not on a proper road today – only pushing through miles of grassland, to bring the rain predictions for the upcoming days to the farming community on the east edge of the boarder. She wouldn't get there until the end of the next day, but the night was warm and the stars were bright, and if she walked slowly enough she wouldn't make more progress than she wanted to. Maybe if she'd been flying instead of walking, the stranger wouldn't have found her.
But he did find her, and she heard his steps fall in behind, perfectly in synch with her own.
She turned her head sharply, intending to tell him off, but when she looked, there was nobody there.
Nothing but footprints, following her own.
She waited a moment, frowning, then turned to carry on. And heard it again – steps, heavier than hers, almost right on her tail.
She turned again, and again, saw nothing.
Her heart fluttering in her chest, she leapt into the air, wings pumping hard to drive her into the sky and away from the field. Wind rushing over her ears was not enough, however, to drown out the flapping of wings following her, or block the sharp, cruel laugh that echoed all around her in the open sky.
"You have answered my call for months, and now you wish to run? My dear…it is far, far too late for that…"
And she felt the claws sinking into her heart, choking off her breath, and she felt her hatred of others twist in her breast, and she plummeted through the sky, gasping and flailing, and the laughter echoed and echoed and echoed around her…
And when she hit the ground, and opened her eyes, and wiped away the tears and dust, she was not in the field at all, but somewhere completely different.
Somewhere dark, and cold…,with nothing around for miles but a single, ancient ruin, standing before her and gaping open at the sky like a corpse's jaw.
She caught her breath, looking everywhere but the ruin as she tried to think of some way to escape.
Even as she thought, however, her steps drew her towards the ruin.
[wishes]
[/url]