Quote:
Whispers abound of a flying ship seen from many lands in Sornieth as dragons emerge from their hiding spots. The rain continues, but sunlight shines through and rainbows adorn the horizon. Worries of a ghost ship spread, but some say it's just adventurous Wind Flight dragons, must be.
A company of intelligent Lightning dragons has sailed in, braving yesterday's storm. Eccentric though some may be, they're all intelligent inventors. They are welcomed by those who remain, eager to get to work on defending themselves and preparing for the worst.
Not far from the docks sits a stand dedicated to recent excavation efforts by one of the region's numerous archaeology organizations. It has been hastily made, no doubt in the wake of this summer's surprisingly high interest in artifacts. A number of chests, trunks, and boxes sit near the stand, some of them dubiously stacked.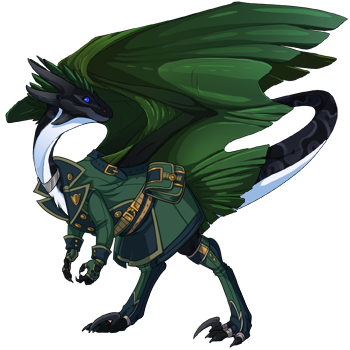 Arrow is once again at the stand. He gives you a dark look, recognizing you.
"So we meet again," he growls. "Now, I'm going to get straight to the point. There has been a theft from this society. As archaeologists, we take our work
very
seriously. And the last person I saw at this stand was you. Have you anything to say for yourself?"
He stops himself and takes a breath. "What on Sornieth am I thinking? I haven't got any more than circumstantial proof that it was you! But that does not make you innocent either."
Pulling out a chest, he says, "Perhaps you can prove yourself. As intelligent and knowledgeable as you are, surely you can identify what is in here." He opens it with a click.
"Dearest Lightweaver," he breathes, "what is this?"
Using any or all of the items above, come up with a written or drawn description of what their purpose may once have been! You can draw or write about an artifact, the history of the Hewn City, or even just your character fiddling about and guessing at everything. Almost anything goes so long as the prompt is addressed creatively.
Entries are due by 00:40 June 28, allowing 10 minutes past rollover for late submissions.
Today's dragon courtesy of @
Gheron
.
@MagpieScholar @SinMachine @CandyPrincess @theroiprocepios @Gheron @Luminaries @Haoang20082 @hat17 @Kizmetto @Valoria @raynefall @mycologist @chezameed @Draginraptor @Zenhugz @Wookiara @ixris @Fortuna @UserOfShadows @Naga @Valyrie @Tarble @iamlurking @PrincessNight @Tsukistar @Lundlaeva @Lundlaeva @harmonywish @Cngx @phooka @Reyka @Tria91 @UnknownConcept @acheronta @JinxMoonstone @WorldOfOurOwn @Katsuokai @Wonderlast @Shadowdawn199 @IronPen @EmeraldDelta @Basilius @winterbell @KraalofBhaga @LadyKnightKatsa @Scatterspark @LadyRiat @Gheron @TesserWings @Saraceaser @Leopardmask @tokayyoshi @Cosi @SunstonePhoenix @Proxima @RRHepburn @NicoleEirin @Steffon @Shad0stryk @beargirl1393 @KitsuneRuna