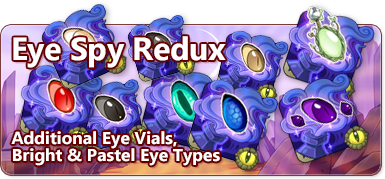 Two new eye types are introduced alongside changes to the eye system.
Bright, Soft Eyes
Bright
and
Pastel
are two new, natural eye types that can now appear on new hatchlings. These types are
less common than rare eyes
, but
more common than goat, faceted, multi-gaze, or primal eye types
.
Galore
has a couple of clanbound gift vials of these beautiful eyes for each clan until
May 10th at 9:00
server time. Be sure to pick them up from Galore before then!
Natural Eye Vials
As of this update, Eye Vials for the following natural eye types now have a chance to stock in the
treasure marketplace
:
Uncommon, Unusual, Rare, Bright, Pastel, Goat, Faceted, Multi-Gaze,
and
Primal
.
When we created the eye type system we intended for it to make breeding a little more exciting by altering the eyes.
Our main goal was to make the act of welcoming any new hatchling a bit more special. We thought that in the surprise cases where when hatchlings exhibited an eye type, it could create an opportunity for players to embark on a dragon project that they may have overlooked otherwise. What once might have been a dragon that would be immediately exalted or sold could open the door to a whole new aesthetic.
As we all know, the best of intentions sometimes don't lead to the best outcome, especially in a game like ours. This system became frustrating for many players who yearned to use these new eyes types on their existing dragons, many of which they've been working a long time on or have sentimental meaning.
With the launch of the system, we released an event-exclusive item—the
Vial of Scattersight
—that we'd hoped would help replicate that randomized surprise for a few existing dragons. Looking back, we recognize that releasing that item was a mistake. Even though we thought we were providing a quirky item that could extend the eye types system backwards for a few dragons per player, they ended up exacerbating that frustration.
We don't plan to bring back the Vial of Scattersight
or any item like it, so we're moving forward with the following
gameplay philosophy
in mind:
In
Flight Rising
, if you put enough time into it, you can pretty much craft your perfect dragon. That should remain one of the most important aspects of our game.
With that said...
Going forward, we've implemented a hybrid approach:
All hatched dragons will still have a chance of exhibiting natural eye types, and you will be able to purchase natural eye type vials on the Treasure Marketplace
.
(NOTE: The rarer a natural eye type is, the more expensive it will be.)
We hope that there's a little something for everyone in this new design. It was important for us to retain the hatchling surprises of the old system, while giving players a path forward for their existing dragons (through enough effort, time, and treasure) who would otherwise have never been able to get them. These avenues combined, we think this expands our dragon customization options for all players and make
Flight Rising
a richer and more rewarding experience.
Greenskeeper Gathering Skin & Accent Contest
The eighth annual Greenskeeper Gathering will begin May 23, and we're running a skin and accent contest in celebration!
Click here for more information!

Additional Updates:
Aerborne Gustgather: Mirror Female and Tundra Female - fixed bad smoke/rope layering
Filigree Boots: Pearlcatcher Female - boots covered up part of the tail fluff
Standard of the Earthshaker: Nocturne Male - pixels in side of image
Silk Scarves: Skydancer Female - pixels on top of images
Nurturing Healer's Reference: Pearlcatcher Female - wrong image uploaded
Assassin Tools: Tundra Male - fixed tools drawn over wing
Assassin Hoods: Skydancer Male - fixed missing shadow layer
Feather Capes: Fae Females - neck fluff of cape covered part of the Fae's face
Wreaths: Tundra Females - fixed error where wreaths were in front of the wings
Boneyard Tatters & Sanddune Rags: Ridgeback Females - removed stray pixels
Thorn Crowns: Mirror Males - removed stray pixels
Silk Fillets: Male Snappers - removed stray pixels