In this Developer Update, we're sharing some information about our next Trading Post activity:
Fiona's Fantastic Familiars
! When you visit Fiona, you can earn unique rewards for reaching bonding milestones with your own familiars and bonding progress on familiars that you may no longer have the ability to obtain. And, as promised, we have a quick update for you on the progress of
Flight Rising's
next modern breed.
---
It's that time again - the development team is happy to bring you another
Developer Update
, this time sharing some information about one of the many projects we have in progress:
Fiona's Fantastic Familiars
.
A quick heads-up for everyone—
the screenshots used
in this update are mostly
from a mock-up/prototype
and may not reflect the final design, colors, imagery, etc. Prototyping is how we quickly lay out our ideas for the UI and user experience. These early designs are provided to the engineering team which they then use to start creating something functional.
---
Fiona's Fantastic Familiars
The newest addition to the Trading Post,
Fiona
, is an overconfident caregiver. She's befriended just about every familiar there is, but found herself
maybe
just a little bit in over her head caring for their every need. That's where you come in! Stop by and lend a claw by visiting with her feisty flock by participating in two types of activities:
Feats
&
Flattery
.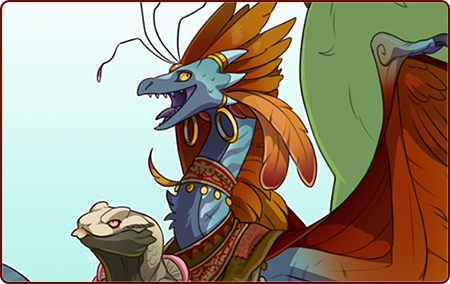 Feats
Feats are
familiar-themed tasks
that focus on the act of
reaching bonding level milestones with certain familiars to earn a special reward
. Once the required milestones have been reached Fiona will allow you to claim a prize, which will generally consist of treasure rewards or in some cases, a special
recolored version of the familiar type
in the Feat.
For the Feat below titled
On Powdery Wings
, Fiona may request for you to reach the
Awakened
bond level with both the
Amaranth Moth
and
Leafy Moth
familiars, after which she would reward you with
1500 treasure
and the
Sparklespore Moth
, featuring a sparkling purple version of the moth artwork.

Feats will have varying degrees of difficulty (they may not all require the familiars to be Awakened or they may require progress with a lot more familiars) and typically grant rewards that correspond to how tough they are to complete.
While we will be launching the feature with a good number of
feats
, we plan to expand this section over time to provide many possible ways of earning rewards.
Flattery
When you visit the
Flattery
page each day, you'll be met with eight random familiars, some of which you may own, and some of which you don't. While these familiars belong to Fiona, they share the bond level progress you have earned with yours. Because she's got so many to tend to, she's more than happy to have your assistance in providing some attention to them.
What makes this page interesting is that
interacting with these familiars performs the same function as bonding with them on a dragon's profile
... whether or not you actually own the familiar or have it paired to a dragon in your lair! This might be a little confusing at first, so we'll break it down a bit further:
If a familiar is one you currently own and have paired to a dragon, interacting with it here will perform the normal bond function as if you had done it from the paired dragon's profile.
If a familiar is one you currently don't own, interacting with it here will perform a normal bond function, granting you bond level progress for that familiar family without needing to have the item at all. If you were to obtain the familiar as an item later, that progress would be retained.
As an added bonus
: If a familiar on this page is one you currently own and have paired to a dragon, Fiona will grant you
double the normal treasure
when you interact with it! Think of it kind of like the daily Exalt Bonus, but for familiars!
The goal of the Flattery page is to allow more of our community the ability to
incrementally increase their bond level with familiars they may not have the ability to acquire
(either through time investment, treasure, gems, or familiar exclusivity/retirement). This serves a double purpose: allowing everyone to make more progress toward feats that may feature those missing familiars, and providing another method of "filling out" the Bestiary.
NOTE: The act of interacting with familiars you don't own at Fiona's Fantastic Familiars will not give you the corresponding familiar item, and it will not fulfill the criteria necessary to give the familiar a special background in the Bestiary once you have reached the Awakened bond level with it. In order to earn the special background, you will still need to both achieve its Awakened bond level and to somehow acquire/have the familiar item.
Below is an example of what the Flattery page might look like on any given day:
---
Modern Breed Progress Update
Work continues on
Flight Rising's
next
modern breed
. For those that are unfamiliar, modern breeds are what we're now calling any non-ancient breed; they are able to universally breed with one another and wear apparel.
Because modern breeds require a massive amount of artwork, they take a significantly long time to develop. As we stated in our
Dev Update on Dragon Breed Development
, our aim is to provide you with periodic progress reports regarding how far along the next modern breed is toward release.
As of writing this, our next modern breed has reached the following completion milestones: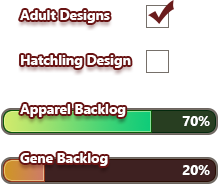 We know what you're thinking: that gene art percentage appears to be a bit of a bummer. Well, not to fear! Due to several workflow improvements we've made over the years,
gene art tends to move far faster than apparel
, which requires hand-drawn treatment for each piece.
---
Recent Maintenance Issues
As you may have noticed, we've had a little bit more maintenance than usual in the last couple weeks. Some of it was so we could perform some long-needed backend work that will help support ongoing optimizations and new feature work, and some of it was scheduled by our service provider and out of our control. As always, we will do our best to communicate this type of game interruption in our Site Status box and on our social media channels.
As for the maintenance on the morning of
January 20
, it introduced a bug in the feature that refills players' dragons' energy after they return to
Flight Rising
after a 45+ day absence. While these players are likely to have received a popup window about the feature, their dragons were not fed properly. This was fixed at approximately
10:05 Server Time on January 21
.
However, that means players that returned
between approximately 06:00 Server Time, January 20 and 10:05 Server Time, January 21
missed out on their dragons being fed. We have gone into our historical records to identify the affected players and correct the impact of the bug. These players have
had their dragons' energy topped off and granted two (2) days worth of Well Fed progress below their average clan energy bar
.
---
And that's all for today! Look forward to
Fiona's Fantastic Familiars
launching in the very near future.
Flight Rising Developer
Project Management
|
Engineering Team Cheerleader
|
UI Designer