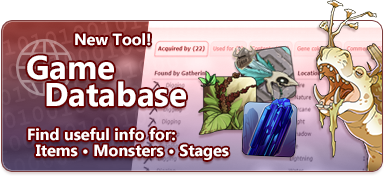 Have you ever wanted to know how or where an item can be
acquired
? How about what it's
used for
? Would it be helpful if you knew a
monster's level, stats, and elemental strengths and weaknesses
? Are you looking for apparel or skins that have
specific gene colors
in them? Well, we've got you covered in our newest on-site tool: the
Game Database
!
---
New Tool: Game Database
Data and wiki enthusiasts rejoice! The
Flight Rising
Game Database
is now live. This tool provides
accurate and useful information
about every
item
,
monster
, or Coliseum
stage
on the website.
Quick Search
Do you know what you're looking for already? Our powerful
quick search bar
will help you get there! Simply
start typing
in part of the item, monster, or stage's name and it will start producing results for you.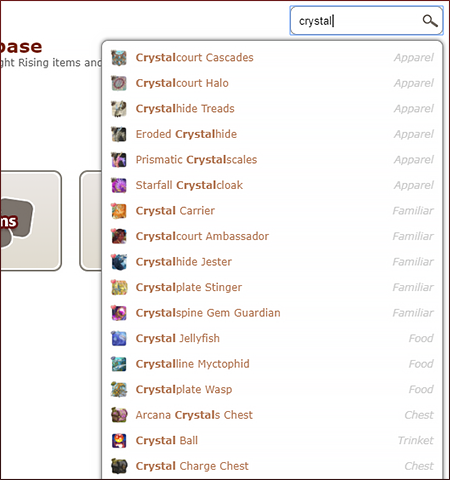 Items
It is now possible to see detailed information about
every single item
on
Flight Rising
. From the index search, you can perform the following actions:
Search by item name
Search by item description
Search by item ID
Filter by item rarity
Filter by dragon gene colors found in the item's artwork
Filter by subcategories
Sort by item name, ID, or color coverage
Each item's page expands upon its place in the
Flight Rising
item ecosystem, including information like its
item ID, rarity, sell price, and categorical designation
. In addition to that (and what we think players will find most useful), it will be possible to see the following information through a series of
tabs
at the bottom of each page:
Acquired by: This tab will display all the ways the item can be acquired or created, whether it's through gathering, monster drops, or other game features (NOTE: Certain items that only appear during limited site events may not show this information until the event is active)

Used for: This tab will display all the ways in which the item is used. For instance, this would include game features or actions that cause the item to be consumed, such as recipes or reagents at Baldwin's Bubbling Brew, trade goods for Swipp's Swap Stand, or Hibernal Den slot unlock tasks.

Contents: If the item is a container, this tab will tell you what it contains. For containers with randomized contents, it will show you what it may contain.

Gene Colors: This tab will list all of the dragon gene colors that are most prominent in the item's artwork, listed by coverage percentage. We felt this would be especially useful for players looking to match apparel, skins, or familiars to their dragons based on gene coloration.
Monsters & Stages
In addition to items, we've also catalogued all Coliseum
monsters
and
stages
in much the same kind of format, and it's easy to jump between all three using links.
For
monsters
, it is possible to see the following information:
Where the monster appears
The monster's level
The monster's base XP
The monster's element
The monster's stats
The array of elements that the monster is strong or weak against
What items the monster may drop when defeated
For
stages
, it is possible to see the following information:
The stage's level range/band
The monsters found in the stage
While we were developing the Game Database we also took the opportunity to
streamline the backend systems that manage Coliseum loot drops
to vastly improve quality of life for our content creation team. In the vast majority of cases, loot items that were formerly assigned to drop on a
unique basis per monster
have been modified to drop
more generally across a wider array of enemies based parameters like their level, element, or stage
. This significantly improves the ongoing Coliseum content development process for our team.
For example, rather than
X Monster drops an item
, a process our content creators had to input manually for
each item
every time a new enemy was created, we can now utilize our tools to tell the system that
All monsters in Volcanic Vents drop X item
.
That being said, here are some updates we made to loot drops that make them more
universal
and
predictable
:
Battle Stone items drop based on the enemy's element and level.
Dragon Eggs and runestones all drop from their corresponding elements.
Stage-exclusive items such as apparel and forum vistas now utilize the above approach.
Health potions have a chance to drop from all enemies, and the size of the health potion is based on the stage the monster is found in.
Generally speaking, this leads to more non-unique items being available in more places. Items unique to monsters (such as specific types of food or associated familiars) will be unchanged.
(NOTE: Due to the above changes, our existing Encyclopedia pages for each Coliseum stage are out of date, as they were based on items being dropped by specific monsters rather than specific conditions. The information shown in the Game Database "Acquired by" tab should be the most accurate reflection of what each monster has the capability of dropping.)
Additional Functions
Beyond item, monster, and stage information, we've added a few additional tools we though may be useful.
Comments Tab
We think that every good community benefits from the ability to collaborate and communicate with one another effectively. To further encourage that, we've added a
Comments tab
to each page in the Game Database so that players can share
helpful information and anecdotes
with one another.
(NOTE: The comments tab has special posting rules, so please make sure to read them carefully beforehand)
Jump to Auction House
On applicable Game Database pages, you can click a button at the top of the page to perform
an instant search (Realm-wide) for the given item
. This search will open in a new browser tab so as not to disrupt your database browsing.

Share: New In-line BBCode Widget
As we continue to add new tools and features, we do our best to integrate helpful
BBCode functions
into the communication-driven aspects of the website. With the launch of the Game Database, we've created the ability to add a database entry as an
"in-line" widget
. These widgets can then be clicked to bring up that entry's page in the Game Database in another tab.
In-line
, for those that don't know, means that the widget will fit in seamlessly with the flow of paragraph text. In fact, here's an example:
(Xhaz: "I'm a game developer, not a poet")
Favorites
Are there certain items or monsters that you'd like to locate quickly later? You can add them to your
Favorites
by clicking the star button. These database entries will display differently on searches, and it's possible to easily pull them all up by setting your search Display Type to "Favorites".
Find Information Quickly
To discover item details more easily, direct links to
specific Game Database pages and sections
have been added to
Hoard
,
Marketplace
,
Auction House
, and
Bestiary
pages. Just look for the new
icon and start exploring!
Flight Rising Developer
Project Management
|
Engineering Team Cheerleader
|
UI Designer