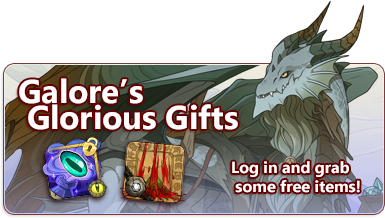 Galore's Glorious Gifts
is now live and will be used as the primary system for supporting sitewide gift items in the future. To celebrate the launch of the feature,
you can log in for the next week and pick up several free items
!
---
Galore's Glorious Gifts
As we announced in
our last Dev Update
, we are changing the way we distribute limited event items ("gifts"). Rather than being deposited into the hoard of all open
Flight Rising
accounts (a time-intensive and system-intensive task for our team), these gifts will be safeguarded by Galore, Sornieth's resident relic-keeper,
for one week (7 days)
. Any open
Flight Rising
account is eligible to log in and collect their free gifts from him during this timeframe.
Why the change?
Galore introduces
a streamlined automated system
that allows us to continue providing players with limited event items (or gifts) without requiring our engineers to work late night/early morning hours or on off-days.
You can learn more about the reasoning behind the change by reading our Developer Update about it
here
.
Today's Gifts
To debut the system, we are awarding free gifts, which are now available to pick up at
Galore's plot at the Trading Post
.
Remember
: He will hold onto these items for the next
7 days
, so if you can't grab them today, that's okay!
You have until
Monday, May 27th at 10:00 server time
to collect the following items from Galore:
2 x Eliminate
2 x Clanbound Vial of Horizontal Sight
Whoa, Hold Up, is that a Goat Eye Type Vial?
Yes!
---
Natural Eye Type Releases
We've had some time as a team to discuss the community's feedback and our approach to
releasing new natural eye types
in to the ecosystem of the game.
Natural eye types, by design, appear at random when hatching any new dragon in
Flight Rising
. This allows all players to have a chance at hatching really unique dragons that can have significant value. However, we understand that there is another side to this system. We realize that it feels frustrating when a natural eye type is released: It's a new visual attribute you can't interact with right away and it can't be applied to dragons that already exist. So we're going to do something about that.
Today, as part of the grand opening of Galore's Glorious Gifts, players can collect two (2) Clanbound Vials of Horizontal Sight. This item can be used to apply the Goat eye type (our most recent natural eye type release) to any dragon.

Going forward, all newly-released natural eye types will also be accompanied by two (2) matching clanbound eye type vials available at Galore's Glorious Gifts.
Our goal with this change is to ensure that we provide everyone
equal & assured opportunities
to apply
future natural eye types
to a couple of their existing dragons every time one is introduced into the system.
---
Item Tooltip Revamp
We're making steady progress on revamping / refactoring the codebase of the site, and it was about time for the
item tooltip
to receive a bit of love.
You'll find that mousing over items will now produce a tooltip that has a few new modifications:
The tooltip size has been slightly increased.
The font size of information in the tooltip has been increased to allow for better readability.
Items are now not only classified by a star count, but their title bar has been color-coded to indicate their rarity. (Gray, Green, Blue, Purple, Orange, Red)
The item icon has been added to the tooltip to hopefully help with visual clarity when mousing over items that might be linked in large volumes on the forums.
Many places that contained text strings have been replaced by icons (sell value, food points).
---
Alerts & Notifications
Alongside the launch of Galore's Glorious Gifts, we've also added a few new notification settings to the site.
Whenever a new gift becomes available at Galore's Glorious Gifts, you will receive an alert. This is similar to the alert that is generated when your Baldwin brews are ready.



We have added badge notifications to several Trading Post hub buttons to let you know if there are activities you can participate in. Such as: grabbing your daily item from Pinkerton's Plundered Pile, or how many offers are awaiting you at Crim's Collection Cart.


The latter options can be toggled off within your
Account Settings
.
---
New Jigsaw Images
We've added 7 new puzzle possibilities to Jigsaw! Note that these puzzles may not appear until after rollover tonight!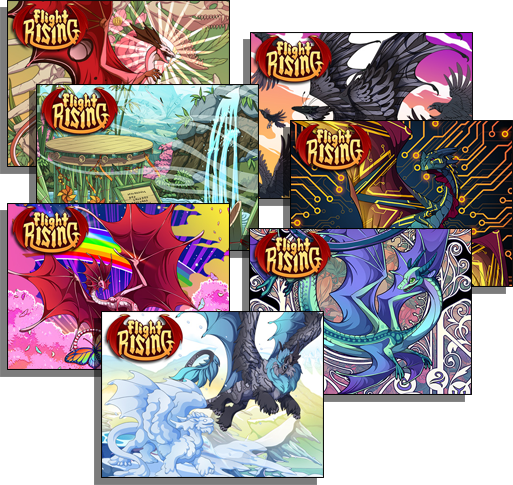 ---
Emoji Additions
Bogsneak emoji are now available! Alchemists and adventurers alike can adorn their post with these plucky dragons!

Flight Rising Developer
Project Management
|
Engineering Team Cheerleader
|
UI Designer