Table of Contents
Announcement: Welcome Weeks
Introducing: New Artists!
Upcoming Revamp: Coliseum
Miscellaneous Site/Quality of Life Changes
Click here to read more!
---
Announcement: Welcome Weeks
Beginning October 9th
As we continue down the road towards opening
Flight Rising's
new player registration
permanently
, we wanted to start cementing in registration windows for future months. Beginning on
October 9 at 02:00 Server Time
,
Flight Rising's
registration system will be open for
one full week each month
.
Welcome Weeks
will always start on
the second Sunday of each month
.
We believe that this gives our community ample time to plan and spread the word, as well as gives new players who discover
Flight Rising
something to look forward to!
We want the messaging for this campaign to be very clear, so while a
Welcome Week
is active, the top banner of the website will include a little extra artwork (much like our elemental festivals) to let you know that players are welcome to join!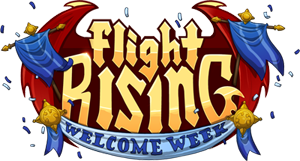 For periods of time when registration is closed, we will make sure that anyone who clicks the "Sign Up!" button is redirected to a page that contains information about our
Welcome Weeks
as well as when the next scheduled window is occurring.
We plan to continue the
Welcome Week
campaign indefinitely as long as site stability remains healthy. As with everything else, we will make sure to notify you if there are any changes to this format.
As we mentioned above,
Flight Rising's
first
Welcome Week
will run:
October 9th 02:00 to October 16th 02:00
Go forth, and recruit!
---
Art and art team updates: Ongoing
In our
July Community Update
, we announced an employment opportunity within the
Flight Rising
art team! With the additions to our art team, we will be able to give new breeds and other large art projects more focus.
We would like to extend a warm welcome to our new artists! @
zephemeral
, @
pesticide
, and Ryan have joined our team of artist to work on apparel (especially the new breed backlog!), genes, and environmental work.
We received an amazing amount of interest in the art positions, and the portfolios we reviewed were a delight. We have held onto these portfolio links, and will likely be contacting an artist or two in the future for when we have additional work available.
We'd like to take this opportunity to address a question we see often, as this relates directly to our art team:
Why does it take so long to introduce a new breed?
Many of you have already hit on the correct answer, and we'd like to offer you some transparency into our art process, and one of our most popular features: dragon species! Due to the customizable nature of our dragons, new breeds take a very, very, very long time to create! This is because they become exponentially more difficult to add as the game progresses. Each new breed needs every gene and piece of apparel drawn to fit it. As of this update, we're at over 40 genes for the adults and hatchling and 1400 pieces of apparel which need to be drawn for both adults. This is a lengthy and time-consuming process. It's one that will continue to grow, as having new gene and apparel options for your existing dragons is also an incredibly important part of the game and our community.

Our veteran artists have been chipping away at new breeds, but this time had to be split between long term goals and keeping new content updates rolling out. With each new breed more demanding to add than the last, we have added (and may continue to add) more artists in the future with the purpose of focusing on our backlog of apparel and genes. The idea is that this should allow us to have breeds cooking at a more steady clip and help offset the exponential complication additional apparel and genes add to our process.

Please note that new breeds will still take quite a bit of time to implement, and that these artist additions will help us as we move forward, even if the effects are not immediately apparent. We are tackling this as a long term project. Our new artists (as well as our existing ones) are going to be working on more than one breed at a time before focus-firing a single breed for release farther in the future (these take a really long time). It is much more efficient to work on half a dozen dragons at a time when it comes to the apparel and gene backlog.

Example: an artist who is working on creating the Birdskull apparel for the new breeds will find it easier and more efficient to work on several at once. Rather than relearning how to draw the Birdskull apparel and creating all the variations over and over again, they can stay in the groove and do it all in one efficient sweep. The same is true for gene work. The end result is while this is still a time-consuming process, we will have the most efficient workflow possible to continue updating our game with new breeds for you to enjoy.
When a position opens on the art team opens up, we will post it to our
Employment Opportunities
page.
---
Upcoming Revamp: Coliseum
Status: Wrapping Up Development
We wanted to provide everyone with an update to our revamp to the
Coliseum
. In addition to many optimization changes being made under the hood, there are a few new outward improvements we'd like to share our progress on.
Keyboard Controls
We recognize that comfort and accessibility are very important to many of our players, so when we started revamping the Coliseum we wanted to make sure we added a keyboard control method. Players will be able to utilize keys on the left side of the keyboard (
such as Q, W, E, R, T, and ESC
) to perform functions for
battle menu selection
,
ability selection
,
item selection
, and
enemy/party selection
.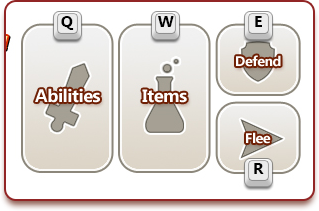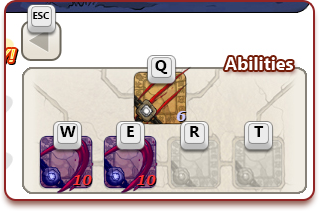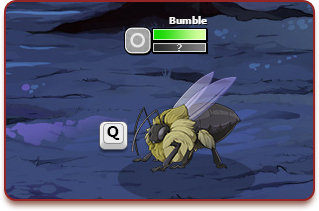 For the time being, these keys are not customizable, but we are hoping to possibly add that functionality at some point in the future.
Camping Buffs
We aren't going to sugarcoat this one, but we think you'll enjoy it nonetheless. With the addition of keyboard controls comes a very big risk for botting and game automation, which is expressly against our
Terms of Use
. Botting, especially in a feature like the Coliseum, can be
extremely
damaging to the game's economy, and it is our responsibility to make sure we do as much as possible to prevent these types of players from exploiting it. To help combat this, we will be adding a CAPTCHA activity called
Camping
that will appear periodically after Coliseum battles and require the player to click an image to prove they aren't a robot.
We know. CAPTCHAs aren't the most fun thing in the world, which is why we'd like to
reward legitimate players for using ours
! Each camping activity will offer to
buff your party for the entire duration of the next battle
you participate in (excluding PVP). The buff your party is offered when camping is random, but will come in the form of the following types:
+ 5% Agility
+ 5% Defense
+ 5% Intellect
+ 5% Mind
+ 5% Quickness
+ 5% Strength
+ 5% Vitality
+ 5% Experience Gain
We believe that this will both help us catch and stop botters as well as give real humans a bit of an edge for their battles to come!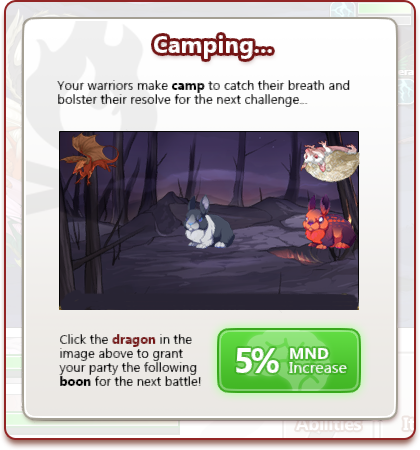 Animations & Effects Options
We touched on this before, but we wanted to reiterate our dedication to these options. It will be possible to
turn off weather effects, screen shake effects, or animations entirely
for those who wish to do so. To remain fair to those who would still like to utilize these effects and animations,
battle speeds will be locked consistently across all options formats
.
PVP Queue Changes & Forum Prestige
One of the more exciting changes we're adding is the ability to
queue for a PVP Rated Match from anywhere within the Coliseum
. Whether you're in the lobby, the stage selection, changing your party or their abilities, or in the midst of a monster battle, you can queue for a match and continue playing while you wait. This enables players who enjoy rated matches to accomplish other Coliseum activities while the system matches them with an opponent, rather than sit on the lobby screen for a long time.
The PVP queue button will be available (along with additional buttons for
effects
options,
control
options, and
full screen mode
) in a series of new buttons that will sit along the bottom of the Coliseum. This bottom bar will be present on all menus and pages of the Coliseum. When you are searching for an opponent, the button will be yellow, and when one is found, it will turn green as well as prompt you that your battle is ready.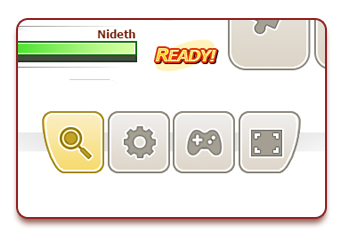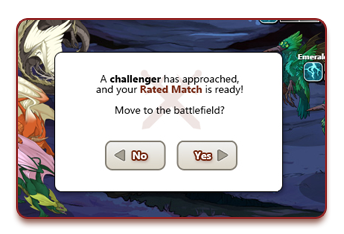 We feel that this will encourage more players to utilize the PVP system, so with more combatants,
we wanted to make sure we recognize those who excel at it!
While we don't have concrete plans to share about this yet, we are leaning towards possible forum vista rewards or a special badge that goes somewhere near your forum avatar if you're a total PVP rockstar.
More on that will be forthcoming!
Agility Tuning
While most stats in the battle system remain unchanged in the revamp, we did want to specifically address
Dodge mechanics
based on community feedback. We understand that it can be really frustrating to have your abilities consistently dodged with no way to reduce the chance of that happening, so we wanted to make an effort towards alleviating that.
To that end,
the Agility stat will be reworked to also help increase a dragon's chance to hit.
This change is intended both to make heavy-Agility monsters less frustrating to fight, and to make the Agility stat a more attractive option in general. We will be closely monitoring the change, and players can expect further review of individual stats down the line with the end goal being to open up new, interesting and fun ways to play and build your dragons.
Because we know that this change may affect some of your current dragon parties, we want to make sure everyone has a chance to make any desired tweaks to their dragons' stats before venturing back into battle.
Each registered account on Flight Rising will be granted 3 Tinctures of Dissolution
; you'll find them automatically
deposited to your Hoard when the revamp goes live
.
---
Miscellaneous Site/Quality of Life Changes
Status: Ongoing
Over the past few months, we've pushed through a series of small quality of life improvements to the forums and around the site.
Forums:
Forum subscriptions
Direct-to-post links
Forum search
Admin post tracker
Layout adjustments
Viewable time-stamps regardless of login/out status
Other
Dropdowns menus: Alphabetized Breed, Gene, and Vista names
Scrying Workshop: Usable without an account
Front page: Updated
Lair pages: 20 dragons per page
Changes and updates are based on our own observations over time as both players and developers and your feedback in the
Suggestions forum
. We implement them when they are ready or when the opportunity presents itself.
As we move forward, we will continue to notify you of these changes in the
Site Status box
.
---
That's it for this installment of
Words on the Wind
! Thank you for all of your feedback! Please feel free to add any additional feedback in this thread, our
Suggestions Forum
, or directly to us through
Contact Us
. We may not be able to provide a personalized reply but we read and take note of all feedback!