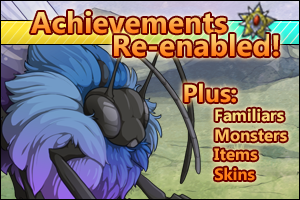 Achievements have been re-enabled. We have spent some time optimizing how achievements work, and are excited to bring them back to everyone. Due to the varied nature of how this system works, we are unfortunately not able to retroactively grant them all, but we will be doing our best to roll out as many as we can. Please see the list below for a comprehensive breakdown of what achievements are going to be automatically triggered on your account, and those that will need to be earned going forward: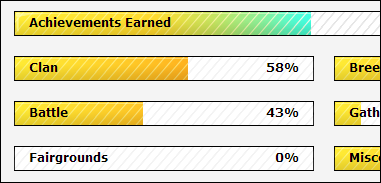 Retroactive Achievements
These achievements will be awarded to you automatically, based on database information.
Please keep in mind that some of these achievements are on on set timers of 12-24 hours to keep site load low, so they may not be awarded right away.
Mighty Lair
Venerable Lair
Ancient Lair]
Level 10 Hunting
Level 20 Hunting
Level 10 Fishing
Level 20 Fishing
Level 10 Insect Catching
Level 20 Insect Catching
Level 10 Foraging
Level 20 Foraging
Level 10 Digging
Level 20 Digging
Level 10 Scavenging
Level 20 Scavenging
Embracing Diversity
Familiar Friends
Quite the Collection
Getting a Little Cramped
Totally Not a Hoarder
10,000 Treasure
20,000 Treasure
50,000 Treasure
100,000 Treasure
200,000 Treasure
500,000 Treasure
I'm Just Getting Started
Founder
Honorable
Superior
Astral
Non-Retroactive Achievements
These achievements (because most have to do with circumstantial events or item possession) will need to be re-earned normally now that the system is functioning again.
Please keep in mind that some of these achievements are on on set timers of 12-24 hours to keep site load low, so they may not be awarded right away.
Arcane Egg
Earth Egg
Fire Egg
Ice Egg
Light Egg
Lightning Egg
Nature Egg
Plague Egg
Shadow Egg
Water Egg
Wind Egg
Congrats on Quintuplets!
Does Not Compute
One Big, Happy Family
Worth Something Someday
Checkmate!
Grr, Baby, Grr...
Speed Lines
Glossy Finish
Lustrous Sheen
Think You're Funny?
Eye-Catching!
Sun-Flecked
Dappled
Circuit Breaker
In addition to re-enabling the current achievements, we are adding several more to celebrate the return of this system! If you meet the exact criteria of any of these achievements, they will be granted automatically. Check them out below:
New Achievements
Guardfeathers
Hatch a dragon that exhibits the Seraph secondary gene.
Crystal Clear
Hatch a dragon that exhibits the Gembond tertiary gene.
Bellyflop
Hatch a dragon that exhibits the Underbelly tertiary gene.
Get Crackin!
Hatch a dragon that exhibits the Crackle tertiary gene.
In Tune with the Runes
Possess all eleven elemental runestones in your Hoard.



Bee Familiars
After a lengthy hibernation, the Bumble and the Coral Carpenter have awoken and are now ready to battle and befriend your dragons. These new familiars are available as drops in the coliseum and will appear occasionally in chests.
New Coliseum Opponents & Drops
Bumbles and Coral Carpenters are now appearing in The Training Fields venue of the coliseum. Qiriqs are appearing in the
Scorched Forest and Bamboo Falls
. They are dropping new rewards for brave dragons.
New Skins
Fancy a new coat of paint for your tundra dragsons?
Kingfisher
and
Mother of Pearl
tundra skins are now stocking in the
gem marketplace.
Additional Updates & Changes
Skydancer sprites no longer turn into guardians when they are defeated in the coliseum.
Skydancer female portraits in the coliseum now correctly display the head, rather than the wing.
Several food and familiar items have had typo and grammar corrections.
Flight Rising Developer
Best Artist Not Allowed to Art | Business Ops | Engineering