lunatron's Clan
Cry, "Face!" and let slip the dragons of war.
Clan Info
The general lore set up of my clan is that it is a town located near one of the Icewarden's jails. Many of my clan work at the jail, but many don't. Kup, for example, is the chief security officer. TheFallen and NemesisPrime, on the other hand, have been ritually bound to the area and are prisoners, because they can't leave.
Sales Thread:
http://flightrising.com/main.php?p=mb&board=baz&id=1251670&page=1
Goals:
Sonic - Emerald Talonclasp Pendant
Galvatron – Glimmer
Blitzwing – Glimmer
Xaaron – Crystal, Facet
Needlenose - Facet, needs Accent
#11152180 – Facet
Blades - Crystal, Glimmer
FirstAid - maybe Crystal
Airachnid - Frigid Fugitive Shackles
Familiars I Need:
Melon Marzal
Cactus Marzal
Moss-Covered Golem
Augite Protector
Maren Defender
Maren Spearmaiden
Oceansurf Magus
Waveswell Sorcerer
Noxious Coralclimber
Leopard Coralclimber
Murkbottom Gull
Tradewinds Gull
Riptide Clipper
Sandshore Snipper
Mirage Puffer
Daydream Puffer
Mottled Sea Serpent
Highfin Sea Serpent
Dainty Wavehopper
Vivid Wavehopper
Deeprealm Hunter
Spiney Whale
Hawksbill Goliath
Golden Featherfin
Undying Featherback
Featherback Boar
Silver Featherfin
Bluetail Skira
Cinderkelp Loach
Hippojay
Shimmering Xolo
Pink-Tail Mole
Rivermouth Flatbill
Candycane Xolo
Melprin
Rosy Peryton
Disoriented Spirit
Fluted Pukasloth
Crowned Roc
Barking Jester
Wartoad
Molten Wartoad
Silky Mole
Roc
Overcharged Silverbeast
Goldenbeast
Stone Borer
Frost Delver
Light Sprite
Bone Fiend
Boolean
Cog Frog
Golden Idol
Skycat
Note:
I use at least three different computers and also an iPad. I'm a student, and I go home on the weekends.
Lore Notes:
This is Clan Crystal City, located near one of Ice's many prisons. Many of the clan work at the prison in some fashion or other. My clan lore can be fairly dark, as a warning, but it is also heavily based on an 80s Saturday morning cartoon.
Master! Of Buttrocks!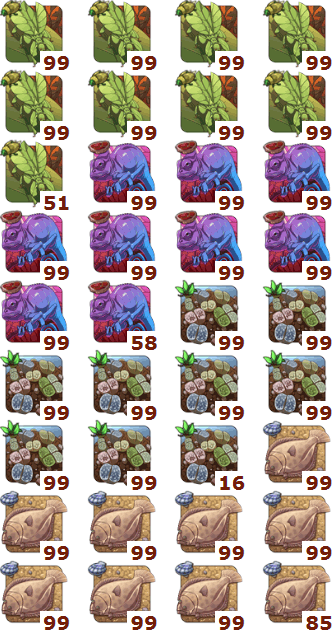 Familiars I Need To Actually Put On Dragons
Sky Lynx
Orcanoch
TheFallen
Temeraire
Shockwave
Overlord
DepthCharge
Botanica
Fleetwind
Firestar
Squiller
Lockdown
WingStun
http://www1.flightrising.com/forums/fs6/1345779
Recent Comments
Ugh I.forgot there's no url posting on profiles -_- sorry. Anyway, he's lovely and I just wanna say thanks for producing him! He makes a fine Coli derg :D
Delete this comment.
Report this comment.
Add this player to your Block list.
This user is currently active.
This user is currently idle.