LUGE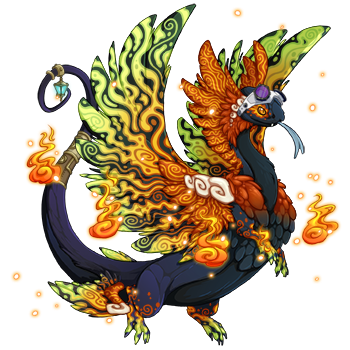 As soon as Styx had seen the Luge area, he had decided to participate- and since no other Clan member felt like breaking their necks in this sports, he didn't have to put a lot of effort into trying to overtalk them.
But for now, he was busy eyeing the souvenir shops, rushing from seller to seller to not miss any interesting thing.
Being a native Fire dragon and living in the lands of the Stormcatcher, he wasn't used to all these cold shiny things at all and gazed at the icy statues and frosted food in amazement.
"You shouldn't buy too much food if you're going to participate in an event, Styx. You will only get sick."
He bent his neck to look at Sapientia, who had agreed to accompany him today- and though he thought she was going to cheer for him, she actually just tagged along to play the babysitter. Just in case Styx got too excited and set another dragon on fire by accident or something.
"Sap! It's gonna start soon, isn't it?"
His tail swooshed in anticipation, almost swiping a juicy snow bunny out of some Wildclaw's hands. With an apologetic smile, he tried to contain his energy- there would be enough time to set it free once the race started.
"Look, look! I even got some special Luge wear with me!"
He said as he put the googles he was carrying on his head over his eyes.
"You are wearing those everyday anyway..."
"Yes! I know! But don't you see, this only means it is my destiny to participate in the Luge race today!"
But before Sapientia could reply to that, Styx had already seen the next interesting thing- a booth offering a variety of fancy looking helmets- and he darted off to take a closer look.
Sapientia followed slowly, shaking her head. She could only hope this scatterbrain wouldn't cause a massive crash during the competition!