I'm.... I... have no words. Last week I found my first coli egg, which hatched into a now-grown Kuesto.
And then today...
| | |
| --- | --- |
| | Mama! Where are we going? |
*winces*
Gathering.

| | |
| --- | --- |
| | So... other leaders like Iohwa? |
| | |
| --- | --- |
| I... what? *blinks* No, not that type of gathering. We're going to do some digging and uh... uh... | |
| | |
| --- | --- |
| | ... Scavenging? |
| | |
| --- | --- |
| | ... yeah, that. |

But... doesn't that mean dirt? I have a pitch later today! I have to get some new designs finalized or else Tangle's Wardrobe is going to crash!

*does a dramatic faint, aided by Kuesto, who pulls a couch out of nowhere*

| | |
| --- | --- |
| | |

Blame Hulbury for that and not me.
And speaking of baths, those are ALWAYS an option, Tangle! And don't even think to tell me it's not because of the ice because you make yourself tea every morning. Usually asking Cinna or I to warm it up for you! Three. Times.

Hours later... in the Arcane territory.
An hour prior they had arrived from the Light territory thanks to special magic runestones or something. Or maybe they're just speedy.
*stops digging*
Mama! What the pillars is this?

*deep breath*
...
...
...
aNoThEr OnE?
*cassidy.exe has stopped working*

*cue everyone having to head back to Shardbreak with a very shook Cassidy*
Later, in Shardbreak Clan
Tangle has gone to get ready for their pitch and Sisu is trying to find Cassidy's squishy-calm-down-it's-an-egg thing. Cassidy and Kuesto brought the egg to Iota, who just so happened to be speaking with Nankai and her apprentice, Aria, at the time.
*looks up and sees Cassidy's face*
What hap-
| | |
| --- | --- |
| | |
*carefully inspects egg*
And an Arcane one if that... doesn't look like it's going to be hatching anytime soon... it's a newer egg... about... two and a half months until it hatches? That would be uh... around the time of the Delta Aquariids...

Aria? Go ask Sunscape for some nest supplies. And then go find the stones needed for an Arcane egg.
| | |
| --- | --- |
| | |
*walks up to Iota and whispers in ear
(Or maybe beckons Iota closer and whispers?*
Is this one going to be attached to me too, because I'm Arcane?

| | |
| --- | --- |
| | Maybe? Maybe not? It depends on what it imprints on... which in the case of Kuesto here... was you. |
*mimics playing a lyre* When they hatch, I can play them songs! And STORIES and MUSIC!
*thinks*
I also want a lyre, lute, accordion, guitar, keyboard, piano, triangle, organ, pan flute, trumpet, clarinet, trombone... *starts listing more instruments*



0_o
Help.
In conclusion, I have gotten my second egg in a week. I've been scavenging for an arcane egg for... uh... over a month or two now... and today I leveled up to scavenging 25 and found the egg!
This one I'm planning not to hatch until my birthday, July 30th, when there's also a meteor shower (which I looked up if there was one to further persuade myself to wait to hatch it). I personally won't be able to see the Delta Aquariids, due to location (to my knowledge), but it defiantly ties in with Arcane and stars and all.
I am willing to set up a Pinglist for the bday hatching. My goal is to get more eggs by then (I'm thinking most will be Bog eggs at this point) and an equal number of gilded chests, but we'll see how that goes. *fam bonding goes brrr*
I'm just... shocked... The only eggs I've ever had are the banescale ones, Ice and the one Fire... and I believe one Noc (forgot NoN last year+2019... and I forgot if I ever got a second Noc egg. I know I didn't hatch the first one cause *screams into pillow*).
I've had the idea for an Arcane self-hatched G1 for a while... like as a rep if that worked out. The only self-hatched Arcane G1 I have is one of my Banescales,
Sundae
.
And now we have egg!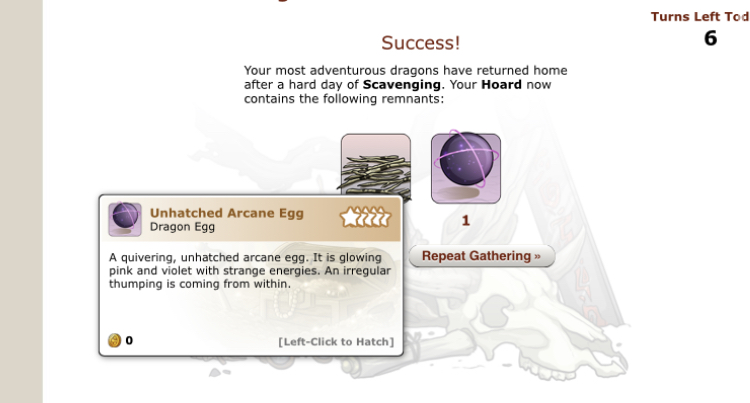 Now onwards to Light Scavenging!