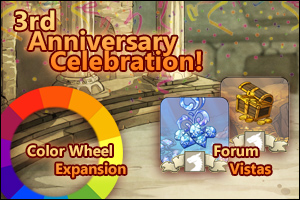 Today is an exciting day!
Flight Rising celebrates its third year of operation as of June 8th
, and we're very happy to share it with you! Among the festivities, we've implemented a massive expansion of our
color wheel
, and a new item type:
Forum Vistas
!
Our Most Humble Thanks
Flight Rising
is
three years old
as of today, and it would not be where it is without you: our players. Some of you have been here since the very beginning, sticking with us through growth we did not anticipate. Many of you have watched our site evolve from humble beginnings and mature into a living, breathing world. All of you are responsible with how wonderful the world of Sornieth has become, and we wouldn't have made it this far without your support.
Colors, Colors, Colors!
Some of you may not know this, but when we were planning the launch of
Flight Rising
, the range of possible dragon gene colors was
only 47
! After our tremendously successful Kickstarter campaign, that number grew to the 67 colors that are available today. When we started out, gene art production was extremely time-consuming: each file had to be generated
by hand
, and as the number of breeds and gene types started to grow, it started to become very difficult to complete these in a timely manner.
Over the last year we made incredible strides toward automating a lot of this process, allowing our artists to spend more time creating interesting gene designs, rather than spending it on the recoloring process.
This automation has proven to be so effective that it is allowing us to
expand our current palette from 67 to 177
- over
double
what was available before! Dragons across the realm will start to take on many more varieties of color combinations, which we believe will both invigorate the economy as well as player breeding goals. Starting today, the expanded color options will be immediately available through the following activities:
Breeding dragons
Opening Unhatched Egg items
Applying Tri-Color (or Clanbound) Scatterscrolls
To remain fair to our current players, we are locking "first dragon creation" during account creation to the original palette of 67.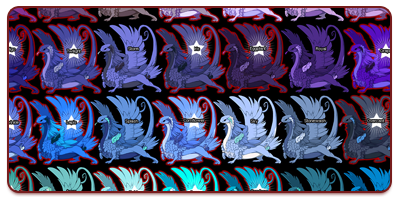 Color Changes & Corrections
We understand that there are a few art bugs with the launch of the color wheel, and we will be taking care of those issues as quickly as possible. When reporting color wheel-related bugs to us, please help us by
consolidating your reports in the bug reports forum.
Thank you!
Known issues that will be corrected:
Iridescent and Shimmer's sheen is at incorrect brightness.
Underbelly covers additional areas in some breeds.
Fae Female Crystal and Facet have a rainbow layer at incorrect opacity.
Gold Crystal and Facet are using an incorrect color palette.
The accent color on hickory/cyan seraph is incorrect.
Auburn Giraffe and Hex use incorrect color palettes.
Tundra females are missing their eye socket colors.
Seraph on Pearlcatcher M, Spiral M, Spiral F, and Imperial F have markings going out of bounds.
Wing claws on Pearlcatcher M Piebald are out of bounds.
Facet on Skydancer F, Pearlcatcher H, and Tundra F have an incorrect base color used on all facet colors.
Facet on Spiral M has incorrect shadow placement.
Crystal on Pearlcatcher F and Fae F have an incorrect base color used on all crystal colors.
Azure Current has Caribbean's mane color.
Contour on Wildclaw H is out of bounds.
Poison on Guardian F runs out of bounds.
Crackle on Pearlcatcher H is out of bounds.
Glimmer on Tundra F is missing part of the horn.
Intended Changes:
All colors (with the exception of Iridescent & Shimmer, which are still colored by hand) have been uniformly standardized across the site. This means that some dragons will look different. The old method that our team used to recolor genes was to have an artist sample each color by hand. This was extremely time-consuming, made gene releases very infrequent, did not allow for color wheel expansion, and produced variation from dragon to dragon because of human error. Our new automated color system needs to use one color swatch for each gene area to function, allowing for no variation from breed to breed.
Colored shadows on old breeds/genes are now uniformly consistent to those that have been used on new breeds/genes. This brings our old breeds and our new breeds in visual alignment going forward.
---
Vista Items
As another part of our anniversary celebration, we are adding a new item type to the game:
Forum Vistas
! We have received many requests for not only more vistas, but also a way to collect them beyond winning contests or being Kickstarter backers. We're more than happy to oblige! Forum Vista items are a new type of
Specialty
item that can be used/consumed to activate a forum vista on your account. Because they are an item, it means they can be sent through the
Crossroads
,
Message Center
, and even bought and sold on the
Auction House
!
Click the icons below to see a preview of our debut vistas!
Gem Marketplace Vistas:
These vistas are available in the
Gem Marketplace
.
Treasure Marketplace Vistas:
These vistas are available in the
Treasure Marketplace
. The spring vista is a seasonal vista and will cycle with the breeze apparel items. Please note that spring ends June 20th. On the 21st, summer rolls in!
Coliseum Vistas
These vistas have a very rare chance of dropping from their respective coliseum venues when battling in the
coliseum.
Swipp's Swap Stand Vista
The following vistas can be traded for at
Swipp's Swap Stand
. You can find the necessary trade items
in our encyclopedia.
Hoard Organization
To help support the launch of Forum Vista items, we have made some adjustments to your
Hoard
. We have added a
Specialty
tab to the top navigation list.
The following items have been
moved from your Other tab to your Specialty tab
:
Gene Scrolls
Breed Scrolls
Rename Scrolls
Youth/Maturity Scrolls
Boons of Fertility
Forum Vistas
These changes will also be evident in the
Vault
,
Auction House
, and all
item attachment windows
. We feel it will be beneficial in helping you find these items a lot easier when it comes time to customize your dragons!
As a token of our gratitude,
each registered player account will be receiving a Third Anniversary forum vista item that can be applied to your account and shown off in the Flight Rising forums
. You'll find it in the
Specialty
section of your Hoard. Thank you for celebrating with us!
Some Fun Facts
A lot has happened over the course of the last three years, so we thought it would be fun to share with you some fun facts:
Since Flight Rising launched:
Over 250,000 accounts have been registered. Wow!
Over 24 million dragons have been created, and over 18 million of those have been exalted.
Flight Rising's top three most popular dragon breeds are Imperial, Guardian, and Skydancer, and they comprise over 30% of all active dragons.
The most popular breed for progenitors is Guardian.
Shadow, Arcane, and Wind are the top three most populated flights.
There are over 3,000 total eternally youthful dragons.
The most popular primary gene is Iridescent, and is applied to over 1.7 million dragons.
The most popular secondary gene is Shimmer, and is applied to over 1.9 million dragons.
The most popular tertiary gene is Underbelly, and is applied to over 1 million dragons.
Over 470,000 Crossroads trades have been completed since we launched the revamped version of it.
Over 15 million messages have been sent.
Over 16 million forum posts have been made.
Flight Rising Developer
Project Management
|
Engineering Team Cheerleader
|
UI Designer