Click or tap to view this dragon in Predict Morphology.
Expand the dragon details section.
Collapse the dragon details section.
---
Personal Style
Apparel
Skin
Scene
Measurements
Genetics
Latte
Savannah
Latte
Current
Cream
Ghost
Level 25 Skydancer
---
Biography
ambience
   CRUX

the sadist


     "My, my, what misery you must be feeling."
             
━━━━━━━━━━━━━━━━━━━━━━━━━━━━━━━━━━━━━━━
Somewhere in the rotting landscape of Plague, a dragon opened his eyes to find himself dangling from the ceiling and restrained by rope. First confusion settled heavily in the young Mirror's mind, then a sickening fear reared its head, for he saw that he was bound by knots meant to contain his writhing form. He whipped his head back and forth to the extent the ropes would allow, all four red eyes flashing with panic as he attempted to understand what sort of predicament he had found himself in. There was not much to see; the only light in the room came from a lamp swaying gently above his head, a lamp which burned with a harsh and unnatural white flame. Beyond the circle of light was a featureless darkness, a black abyss which he supposed could hold anyone or anything.

"H-hello? Is anyone there?" he called nervously, but there was no reply save for his own quavering voice echoing off some darkened wall. As it turned out however, someone was there. A lithe female dragon padded out of the darkness, her alabaster face distorted by a foreboding smirk. She was beautiful, but there was something unnatural and menacing about her beauty; her pale flanks seemed to have a ghostly pallor, and she placed her feet with the slightest of hesitances, as though she was not quite accustomed to having the form of a dragon.

A necklace of small bird skulls hung around her slender neck, their empty eyes seeming to be perpetually widened with fear. And there was something especially unsettling about her own eyes, something unnerving which lurked in their brown depths alongside malicious delight. "Who are you? What are you going to do to me?" the Mirror whimpered, wings flaring instinctively against his binds in a futile attempt at escape. The menacing female laughed, the sound reverberating maniacally around the room where she held her prisoner. "I am Crux," said she, drawing herself up so that she rested on her haunches. "Servant of misfortune, tormentor of the multitude, bringer of pain. I will do to you what I must do, what I was born to do."













           











"I don't un-understand," stuttered the trembling Mirror. With apprehensive eyes, her victim observed that she held a glinting dagger in one dust-colored hand, and he knew that his time without harm was quickly dwindling. As he was an enterprising and desperate soul, it occurred to him that perhaps he could talk this dragon out of her sadism, and he began to try just such a thing, struggling to push his words past the fear which had lodged in his throat. "You don't have to do this, not really," he began, "I won't tell anyone, I swear to the Plaguebringer I won't. J-just let me go and I won't give you any trouble, no trouble at all." Crux flared her nostrils in derisive amusement, dropping to all fours and slinking to her victim's vulnerable flank. "No, you really don't understand, youngling. You seem to have mistaken me for a young dragon playing at her first kill," she said loftily, relishing in the way the captive dragon twitched anxiously at the word kill.

"When darkness swept across Sornieth for the first time, it was I who feasted upon the pain of the doomed ones. It was I who stole away unprotected eggs and careless hatchlings, consuming their lives and gorging myself upon the grief of their clans. It was I who inflicted pain and gloried in it, I who spilt blood and severed nerves." Her voice climbed in volume as she spoke, filling the space as she delighted in the panic of her victim. "I am Crux. I am misfortune. I was born alongside misery, and I will not perish." The air was thick with Crux's excitement and the fear of the unfortunate Mirror, and she could hardly wait to begin the torment she had planned. For her victim had been wrong when he had claimed that she did not have to hurt him. It was her purpose and her instinct, and she could only refrain from indulging for so long. "But enough of that," she said as her captive wailed something incomprehensible, and then she swung the knife.


           
━━

notes

━━━━━━━━━━━━━━━━━━━━━━━━━━━━━━━━━━
» Crux is unfeeling and sadistic, caring for nothing but the thrill of death and pain.
» Crux is inhabited by the spirit named Crux (shared name) and her true age is 562 years.


_________________________________________________________



           
art by
Absolem0!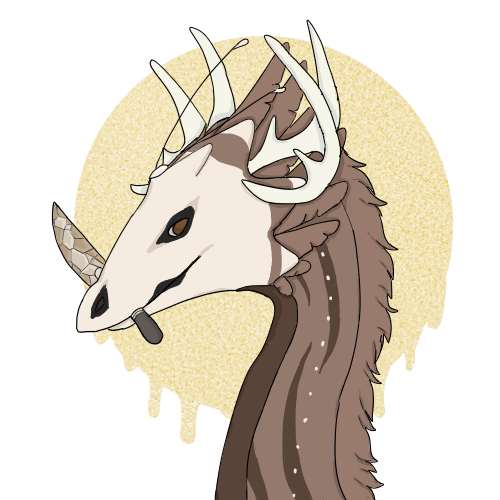 art by
aloevera!
made by
Iceluoxe!
Click or tap a food type to individually feed this dragon only. The other dragons in your lair will not have their energy replenished.
Feed this dragon Insects.
This dragon doesn't eat Meat.
This dragon doesn't eat Seafood.
Exalting Crux to the service of the Gladekeeper will remove them from your lair forever. They will leave behind a small sum of riches that they have accumulated. This action is irreversible.
Do you wish to continue?
Names must be longer than 2 characters.
Names must be no longer than 16 characters.
Names can only contain letters.
Names must be no longer than 16 characters.
Names can only contain letters.