Infernalis' Clan
Blood Moon Apothecary
Clan Info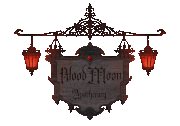 head of Blood Moon Apothecary


Sarcomere Subspecies



I have been offline for a good while due to IRL responsibilities, but I am working on responding to all missed messages! Thank you for your patience.

Artist, Biologist, Dragon hoarder and Dinosaur enthusiast

I'm personally friends/affiliates with several people on this site, so there may be lots of back and forth sending things to a small number of people
I share an IP address with two other active members of the site
Recent Comments
WOW! Your Bloodborne dragons are just...*Chef's Kiss* I don't even know which one is my favorite. All I can say is that I can tell you put a lot of effort into their clothing and overall design. Fan dragons are hard work but it really paid off! Beautiful!
Loving your bloodborne fandragons, especially the Wet Nurse! What a cool idea to use a marva's cloak for her.
Hiya!! I didn't want to post on the thread in case any more posts need be reserved since there was a disclaimer of some sections being WIP, but I LOVE your Sarcomere subspecies so much, they are wonderful <3
Delete this comment.
Report this comment.
Add this player to your Block list.
This user is currently active.
This user is currently idle.