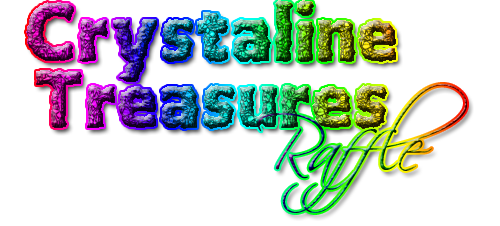 WELCOME TO THE CRYSTALINE TREASURES RAFFLE!
This crystal/facet dragon raffle features
ten
beautiful crystal/facet
dragon prizes. All prizes are unnamed, unbred, triple-gened dragons, ready
and waiting to go home with their new owners.
ABOUT THE PRIZES
Each time a stretch goal is hit, three new prizes and one more week of purchase time will unlock, to a maximum of three weeks. If all three goals are reached, the grand prize will unlock!
HOW TO GET TICKETS
There are four ways to get tickets.
Tickets may be purchased with gems.
1 g = 1 ticket
Tickets may be purchased with treasure.
500 t = 1 ticket
Tickets may be purchased with dragons.
Dragons Levels 1-6 = 5 tickets
Dragons Level 7+ = 24 tickets
**Please note that dragon payments will be named and exalted.**
SEND ALL PURCHASES TO VAGABONDSENTINEL OR SILVERARTE.
Finally,
FREE
tickets may be obtained once per day
by putting our banner (below) in your signature and
bumping the raffle. Remember to ping @
SilverArte
or
@
VagabondSentinel
when you bump!
YOU CAN VIEW THE CURRENT TICKET SPREADSHEET HERE.
PRIZES WILL BE DRAWN ON:
March 8th

Code:
[center][url=http://flightrising.com/main.php?p=mb&board=raf&id=1368208][img]http://img.photobucket.com/albums/v213/simeonreese/sig_zps4735eaa7.png[/img][/url][/center]

Code:
[center][url=http://flightrising.com/main.php?p=mb&board=raf&id=1368208][img]http://img.photobucket.com/albums/v213/simeonreese/cryfaceban_zpsy07jc92c.gif[/img][/url][/center]

Code:
[center][url=http://flightrising.com/main.php?p=mb&board=raf&id=1368208][img]http://img.photobucket.com/albums/v213/simeonreese/treasures_zpsc1x4wyqk.png[/img][/url][/center]