EDIT: It has been suggested that bolster is swapped for sap, and to use defend instead. I will update the picture accordingly in the next few days.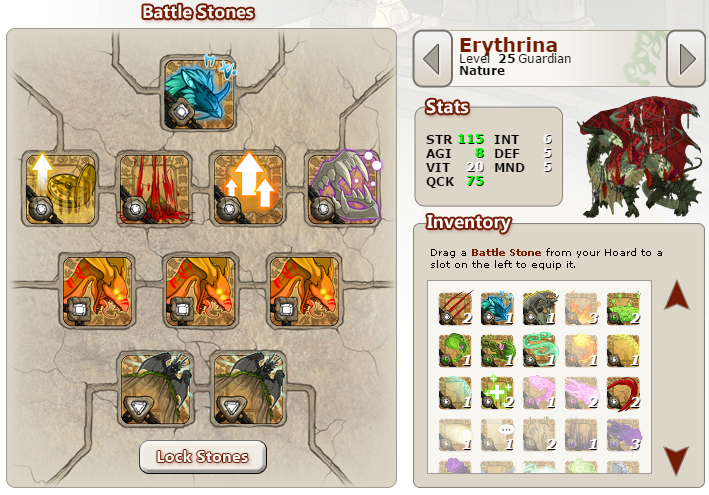 115 str/20 vit/75 qck - extra point in int or def.
(buffs such as bolster and rally have an invisible healing effect equal to a dragon's int)



Stones:
Meditate
Haste/Eliminate/Rally/Sap OR Bolster
Berserker/Berserker/Berserker
Ambush/Ambush


lightflightlightflightlightflightlightflightlightflightlightflight

Alternate Mire Build: 119 str/6 vit/72 qck OR 119 str/16 vit/70 qck

This is the current ruins single trainer build I've been using- I know, I know, what's with the meditate?
As you may or may not be aware, meditate applies a debuff to strength for 3 turns after it's cast (it says 2 in the tooltip but that's incorrect). However, consider that a normal mire flyer-style build takes haste and 4 scratches- or five turns- before it can eliminate: this build only takes 4. This means that against physical packs, you can take one mob out before its second turn, which is huge considering how melee based the ruins are! And you have rally up, so with this strength you can eliminate everything right off the bat.

This build happily starts against any 3 pack that doesn't contain the tatterwing carcass or shatterwing vulture. The first round turn order is as follows: meditate, haste, bolster/defend, rally, eliminate- unless you're against the faster casters (somber spirit, otherworldly aura, lux spectre, aer phantom), in which case meditate/haste/rally/defend is preferred, so you're defending while they might be casting in your general direction. Having haste on the second turn is why the quick is as high as it is- unfortunately, it's not possible to have a returned turn against anything but the wendigo and pronghorn stomper, but the sooner you can get bolster up, the better (it is possible that you could adapt this build to have lower quick and higher vit, but I don't plan to test this at the moment).

Unlike most of the solo ruins builds I've tested, this build can survive two rounds no problem even when starting on an all-physical 3 pack! This means it can be reliably used for blitzing if you so wish. I'm currently running some tests comparing the speed of training in the ruins to a 119str mire flyer (in the mire). You can stretch it to train fodder to 7 or 10 or whatever, but it may require a couple of restarts.

Pros: Can take out mobs before mire flyer-styles even get their pants on.
Can start against most 3 packs. This is huge, as it means you can restart without losing too much time.
Good survivability compared to similar glass cannon builds.
Using haste first turn nets you a returned turn with this quick, which is helpful for building up breath.
You can rally eliminate everything.
It's a fun build!

Cons: Dodges are deadly- if something dodges you, unless you have the breath to eliminate again you should restart.
Whichever way you slice it, the ruins are going to wear a dragon down very quickly.

Tips: If you have to restart and you're training fodder, dump all the fodder's stats into vit, it helps soak up damage (this goes for any single trainer build in any venue).
Water is probably a tad better over nature, as aer phantoms (wind, resisted by water) are more problematic than otherworldy aurae (arcane, resisted by nature).