So by some miracle this baby hatched upon me this morning.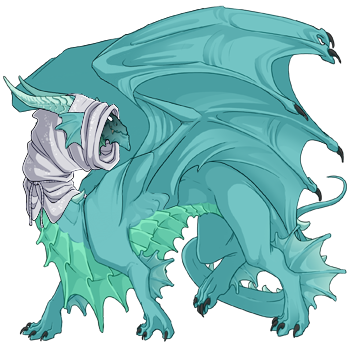 As the title states, she's a Triple Aqua G1 Girl with Ice eyes.
SB: 500k
Minimum Bid Increase: 50k
CB: solknots 6.2 mil
AB: A skycat (I know that'll never happen, but eh, might as well throw it up as an offer)
If I feel the bid gets really high, I'd like to use @
Rhea
's middleman service, of which I will pay for the fees. This of course will only be necessary should the bid be mixed, or of items.
I may take items in place of treasure or gems for bids, but those will mostly have to consist of very rare retired items for me to be interested.
Again, not sure how crazy this'll get, but preparing for the craziest.
This auction will end November 13th at 17:00 FR time. There will be a 2 hour snipe guard in effect.
Snipe Guard will take effect for two hours AFTER THE TIME THE PERSON BEING OUTBID HAS BEEN PINGED. If you fail to ping them, the two hour countdown will NOT start until they have been pinged.
I'll take gems at 1:400 rate. Please ping me and the person you are outbidding when you bid!
I think I've covered everything, but if you have a question feel free to ask.
Notes for myself:
To be pinged 20-22 hours before auction ends: Tetraodon, Fuyumi, SnowAnubis
Items I will definitely accept as partial bids (Multiples allowed):
Might as well put the auto-buy :P
And any other KS familiar I guess, although I don't expect the price will get anywhere near it.