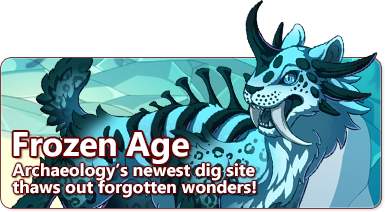 A new site of archeological interest has been discovered! Dragons across Sornieth seek to uncover the history of Frozen Age, our newest dig site.
[Image Description: Update banner reads "Frozen Age: Archaeology's newest dig site thaws out forgotten wonders!" A large cat-like creature with a bob tail, elongated canines, a curved central horn, and spine-like spikes running down its back stands in front of an icy wall.]
---
Frozen Age
A new dig site has been opened
for dragons with an
archaeology skill of four and above!
In the Frozen Age dig site, dragons explore the fauna and artifacts preserved in ancient ice.
No, not that ice.
Items available through the Frozen Age dig site include:
At the Grand Exchange,
Glass and Gloss
are eager to exchange unearthed genes for a different sort of "ancient gene".
---
Rockbreaker's Ceremony Skin Contest
The eleventh annual Rockbreaker's Ceremony will begin on November 26, 2023, and we're running a skin and accent contest in celebration
Click here for more information!