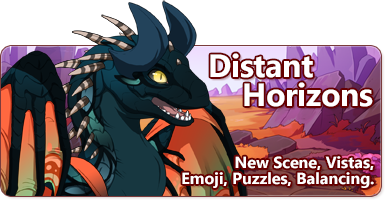 The dragons of Sornieth explore new vistas!
---
Forum & Bio Vistas
Three new vistas are now available to accessorize your forum avatar, or the biography area of your dragons' profiles. Vistas are applied to your account and can be used on multiple dragon profiles at once!
Vista: Blighted Pines
has a chance to stock in the
treasure marketplace
.
Vista: Corgi Sploot
is now available in the
gem marketplace
.
Vista: Avian Anatomy
can be brewed by alchemists level 25 and above at
Baldwin's Bubbling Brew
.
---
New Emojis
A set of adorable
Skydancer emojis
are now available!
---
Jigsaw Additions
There are 6 new jigsaw puzzle images available for the
Jigsaw Game
in the fairgrounds. These may not begin appearing until rollover tonight.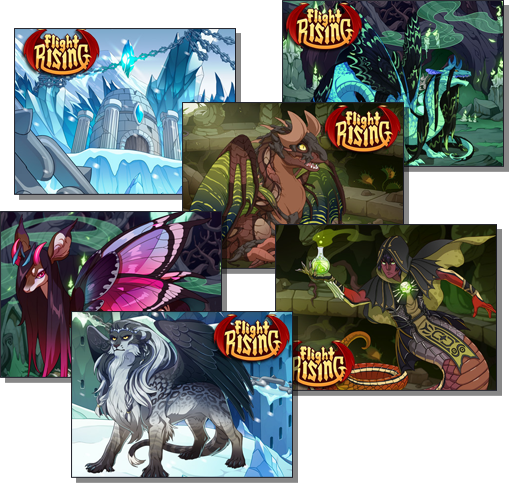 ---
Flowering Wasteland Scene
New life has bloomed on a seeming wasteland:
Scene: Flowering Wasteland
now has a chance to stock in the
Treasure Marketplace
. Scenes can be used on dragon profiles to place your dragon in strange and wondrous locations!
---
Trickmurk Circus Skin & Accent Contest
The eighth annual Trickmurk Circus will begin February 21, and we're running a skin and accent contest in celebration!
Click here for more information!

---
Additional Updates
Would you like to join the Flight Rising team? We are currently seeking an Illustration Generalist for contract work. Please click here for more information!
Several Baldwin Recipes have had changes implemented.

Glass Beaker (2) 25 XP ---> 35 XP
Glass Beaker (2) 4 Broken Bottles ---> 3 Broken BOttles
Venom Rogue Belt 400 XP ---> 650 XP
Venom Rogue Vest 400 XP ---> 650 XP
Venom Rogue Bracers 400 XP ---> 650 XP
Venom Rogue Cape 400 XP ---> 650 XP
Venom Rogue Footpads 400 XP ---> 650 XP
Venom Rogue Trousers 400 XP ---> 650 XP
Venom Rogue Hood 400 XP ---> 650 XP
Venom Rogue Mask 400 XP ---> 650 XP
Venom Rogue Tail Binding 400 XP ---> 650 XP
Venom Rogue Gloves 400 XP ---> 650 XP
Venom Rogue Wing Guard 400 XP ---> 650 XP
Primary Gene: Poison 2000 XP ---> 2500 XP
Primary Gene: Poison 720 min ---> 540 min
Secondary Gene: Toxin 2000 XP ---> 2500 XP
Secondary Gene: Toxin 720 min ---> 540 min
Carbon Cushion Colony 400 XP ---> 700 XP
Duskcheer Colony 330 XP ---> 700 XP
Duskcheer Colony 3 Orange Ooze ---> 3 Yellow Ooze
Fairy's Tears Colony 330 XP ---> 700 XP
Marshwisp Colony 330 XP ---> 700 XP
Mossy Maze Colony 330 XP ---> 700 XP
Mossy Maze Colony 3 Orange Goo ---> 3 Green Goo
Noxious Colony 425 XP ---> 700 XP
Rubycap Colony 425 XP ---> 700 XP
Twilight Colony 425 XP ---> 700 XP
Infused Fragment 150 XP ---> 400 XP
Poison Dart Frog Companion 600 min ---> 480 min
Iron Golem 330 min ---> 240 min
Iron Golem 600 XP ---> 700 XP
Rusty Golem 330 min ---> 240 min
Rusty Golem 600 XP ---> 700 XP