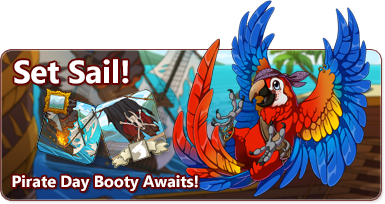 Pirate day is back, and the scallywags of Sornieth continue their plunder!
---
Seaspray Apparel be Back!
It's that time again - the seaspray apparel set is back in the
Gem Marketplace
!
You can now have an entire crew's worth of pirate dragons in their own unique garb!
ARRRRRRR...!
The seaspray sets will remain in the marketplace until 22:00 September 25th.
---
Brew some Crew!
A captain isn't much without a crew! Novice and Veteran alchemists alike can
head on over to Baldwin's Bubbling Brew
to concoct some friends to man the deck! These recipes are available until 22:00 on September 25th when they cycle, so brew fast, ye landlubbers!
---
A Deserter
Fiona
has befriended a deserter, but has hidden them away until she can find dragons who have a true love of macaws and will not turn them over to their irate crew!
---
Galore's Glorious Gifts & Coliseum Booty!
Galore has new gifts
for worthy dragon clans. Stop by for a visit with Galore between now and September 25th at 22:00 and pick up tasty gifts for your clan! Galore is also offering a new scene in the spirit of Talk like a Pirate day!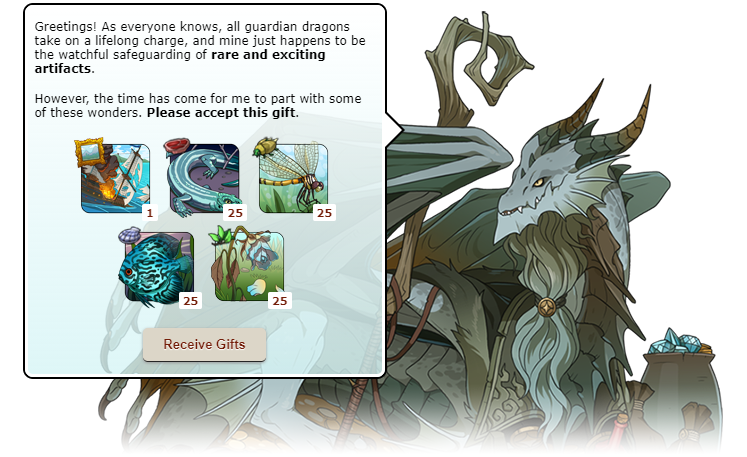 Dragons may find additional copies of this scene in
battle in the coliseum
! All enemies have a rare chance to drop this scene until September 25th at 22:00 server time before it cycles away for another year!
---
Set Sail for Sweeping Vistas
Dragons may enjoy the change of scenery as they sail the coasts of Sornieth. Vista: Pirate's Life is available in the
treasure marketplace
from now until September 25th at 22:00 server time, at which point it will cycle away until next year.
---
Starfall Celebration Skin Contest
The seventh annual Starfall Celebration will begin September 27, 2020, and we're running a skin and accent contest in celebration!
Click here for more information!

---
Coliseum Skin & Accent Contest 2020
The coliseum has grown over the years, and so have the many opponents dragons may face!
We are running a new coliseum skin contest
for 2020!