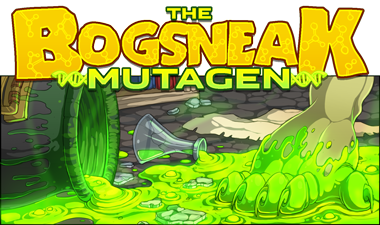 Something has gone horribly, horribly wrong at Baldwin's cauldron. A freak accident
has transformed the studious alchemist into something unrecognizable
, and he's looking for fearless and talented apprentices to help him pin down the exact science involved. Will your dragons help, even if it risks changing them?
New Lore: The Bogsneak Mutagen
You may have noticed that Baldwin has been looking a little... different lately! A freak brewing accident has morphologically changed his DNA, and he is interested in getting to the bottom of it. Find out a bit more about how this accident came to be in our new lore article
The Bogsneak Mutagen
.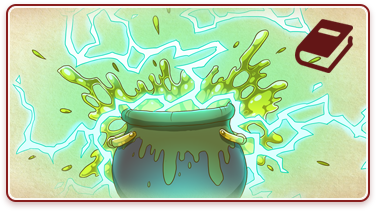 New Breed: Bogsneak
With this update,
Flight Rising
is introducing its newest breed, the
Bogsneak
! This breed is unique, in that
Breed Change scrolls are only obtainable through cauldron recipes in Baldwin's Bubbling Brew
. Players that have reached an
alchemy level of 16
may stew up one of these scientific scrolls, or even transmute Bogsneak egg recipes to take on the Bogsneak's remarkable DNA!
The Bogsneak is an
uncommon
breed (possessing a
25
day breeding cooldown) that eats
Plants
and
Meat
. Lorewise, it is also Sornieth's very first
unnaturally-occurring breed
, as they have not existed in the realm until this scientific breakthrough. Although Bogsneak dragons can breed normally like all other dragon breeds, their existence in the world is entirely through this sudden mutation.
Head on over to
Baldwin's Bubbling Brew
, and start experimenting -- in the name of science!
Yarrrr: Corsair Apparel Art Revamp and Variations
It's that time again - our popular Corsair apparel set is back in the
Gem Marketplace
! With the restock, we have
spruced up the artwork for the set
, added a really excellent
new coat
, and even included
multiple color variations
.
(NOTE: For those that have the existing Corsair apparel set, it may be necessary for you to manually clear your browser's cache to see the art change.)
You can now have an entire crew's worth of pirate dragons in their own unique garb!
ARRRRRRR...!
The seaspray sets will remain in the marketplace until 22:00 October 3, 2016.
Additional Updates & Changes
Visitors who are not logged into an account will see a new Sign Up / Login interface.
Coliseum capes may now be vendored or melted down to reagents for Baldwin's Bubbling Brew.
Flight Rising Developer
Project Management
|
Engineering Team Cheerleader
|
UI Designer