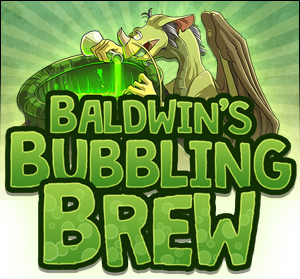 The master alchemist,
Baldwin
, has relocated his workshop of experiments and set up a site at the
Trading Post
. Baldwin's special cauldron can transmute items into alchemical compounds that can be used to materialize brand new ones. What will you drop into the brew?
Baldwin's Bubbling Brew
is a new
Trading Post
activity in which players can transmute their items into alchemical compounds. These compounds can then be combined with other materials to create brand new exclusive craftable items!
Transmuting and creating new items will yield
alchemy experience
. The higher your alchemy level, the more recipes are available to your clan. At this time, players can currently achieve a maximum of
Level 5
. With such a huge swath of new apprentices, however, Baldwin will likely have new and exciting recipes very soon!
Cauldron Tips:
Baldwin only has one cauldron, so you'll have to choose whether to transmute an item or create a new one. It won't be possible to do both at once!
It's only possible to drop Food, Materials, Familiars, Apparel and Trinkets into the cauldron.
Alchemical compounds aren't predictable! Each item category will produce its own type of transmutation material, but in varying colors and degrees of rarity.
Alchemical Ingredients:
Below are some examples of
alchemical ingredients
that can be produced and used in
Baldwin's Bubbling Brew
recipes as components:
Food Transmutes Yield:
Material Transmutes Yield:
Trinket Transmutes Yield:
Apparel Transmutes Yield:
Familiar Transmutes Yield:
Recipe List:
As players advance through the levels, we will add more and more recipes to the game! All players start out with access to
level 1 recipes
. We create an encyclopedia entry as further levels of recipe are unlocked by the community!
Level 1 Alchemy:
Level 2 Alchemy:
Level 3 Alchemy:
Level 4 Alchemy:
Level 5 Alchemy:
That's all of the recipes for our anniversary! We look forward to watching alchemists gain even greater expertise and learn more new recipes in future updates! Thanks to everyone for a wonderful anniversary!

Today also marks the date of
Flight Rising
's
second anniversary
! We wanted to extend a monumental thank you to all of our players, old and new, who have supported us along the way. From the
Kickstarter
to
Beastclans on the Rise
to
Night of the Nocturne
, we have always had an extremely wonderful, helpful, and passionate community and we would not be where we are today without your feedback and all your amazing dragons.
As a thank you, all currently registered accounts will find a special anniversary familiar, the
Loga
, deposited into their
Hoard
. It will also be possible to craft
additional copies
of the Loga for a very short time in
Baldwin's Bubbling Brew
. You'll have until
Tuesday, June 9th at 22:00
to utilize this recipe before it vanishes forever, and the loga retires! Here's to many more years in the realm of Sornieth!
Happy anniversary
!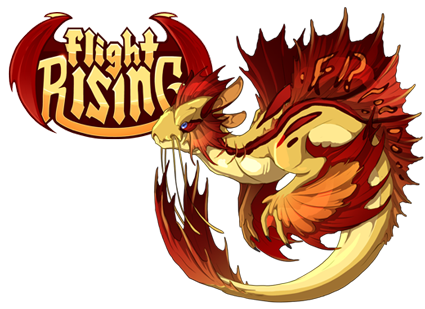 We wanted to kick off our third year with something a little bit different: a
comic contest!
We've had such an awesome experience with all of you since launch that we thought it would be great to call on some of those memories. This contest will be judged by the
Flight Rising
staff, and entries will be submitted privately through e-mail to maintain the surprise!
How to Submit:
The theme of the comic should be "Remember that one time... ?"
Comic Submissions should be e-mailed to comic2015 @ flightrising.com
Comics should be kept under-wraps until the day the contest is finished and judged.

Please do not post your comics to our website until the contest is finished and winners posted.

Deadline for entries is Thursday July 9th 2015
One submission per player only.
Technical Specifications
Comics must be in jpg, gif, or png file formats.
Comic pages must not exceed 520 pixels in width
If your comic is tall or multiple pages, we ask that each image not be more than 850 pixels in height and no more than 5 pages in length.
Prizes - 10 Winners will receive:
3000 gems
Archived Page on the Encyclopedia with the 2015 Comic Contest Winners

Credit to your FR account as well as as your offsite gallery, portfolio, or contact information. (optional).
Offsite portfolios must be SFW.
Everyone who participates will have our thanks for having the privilege of enjoying your creation! We look forward to seeing what you create! It's been a great two years, and we look forward to spending many more with you!
Additional Updates:
Skins and Accents that are rewarded as part of Swipp trades will no longer erroneously stack themselves in the Hoard.
The Boreal Wood and Arena encyclopedia articles have been updated.
Coarsefur Yeti no longer drop Burlap Sack. They drop Frozen Knapsack instead at the same rate.
Clipping issues with the cloak apparel have been addressed. Reequip or refresh your dragon's image to update.
Noses on wolf pelt apparel for mirror m have been corrected. Re-equip and refresh your dragon's image to update.
Nocturne M and Budwing Morpho targeting auras now follow the correct shape/direction in the coliseum. If this change does not appear, hit ctrl + f5 to reload the images.
Flight Rising Developer
Best Artist Not Allowed to Art | Business Ops | Engineering