Dragon Lair
Nesting Grounds
Gather Items
Clan Profile
Hoard
Messages
Merch
Marketplace
Auction House
Trading Post
Crossroads
Custom Skins
Fairgrounds
Coliseum
Dominance
Dustcarve Dig
Forums
Dev Tracker
Which Waystone
World Map
Search
Dressing Room
Scrying Workshop
Game Database
Encyclopedia
Media
Support
A demon's strength is in creating something new from chaos.
Click or tap to view this dragon in Predict Morphology.
Expand the dragon details section.
Collapse the dragon details section.
---
Personal Style
Apparel
Skin
Scene
Measurements
Genetics
Azure
Basic
Ice
Basic
Shadow
Basic
Level 12 Spiral
---
Biography
AZZY DILATTE
(azz-EE DEE-lah-TAY)
nonbinary; he/they・in a relationship with snowy
---



___________________


Strength
█

█████████


Magic
███████

███


Defense
███

███████


Charisma
██████

████


Kindness
████

██████




"You've no other place to go? Well, that's no problem at all. Many here in Paradisium are the same way, so maybe you can stay a spell with us? I don't mind at all.
...You want to know my name? ...Call me Azzy. It's a pleasure to meet you."
One of the founders of the Paradisium Clan, he carries himself in a dignified manner while still staying as kind and welcoming as possible. He tends not to talk about himself, though, preferring to learn about others. External matters are left to him.
"Once upon a time, in a land far from here, I made a cruel mistake. Many in my world became demons because of it... including myself. I have worked to smooth everything over, and everyone is more or less happy there. But... I think it had a consequence I didn't expect. I became more aware of worlds like these, looking to travel to them. And, well... here I am! I got to make the clan with you, we found Erza, and everything went uphill from there~ I haven't forgotten my real home, of course; they know about the clan, but I don't know if they'll ever get to come. And even if I vanish for days at a time to go there, please take care of them and trust I'll return. This is my home, as well."
"...I trust someday you will tell everyone else of your tale, yes? They deserve to know."
"...you sound just like my partner when you say that, Nova. You know that? ...I always get scared of talking about the things I've done. I fear the consequences, all the time. But... I'll tell them all soon. They do deserve to know, Edmund especially. I'll accept whatever comes... I promise."
(Some time after this, he chose to create a magic school for dragons to break their limits and study other elements. He serves as something of a principal. ...and he tells them all.)
He has accomplished a great deal in this world,
but perhaps has done even more in his world...
Nova

___________________


"I don't think we're too different from each other... I'm sure the folks in my world would love to meet you."
The first one Azzy could trust with his full story, and the only one Nova can trust with hers. Working together, their magical potential reaches great heights; they were able to create Edmund with only magic, if that proves this.
___________________

"Hm... you remind me a lot of someone I know. Maybe it was fate that led you to stay..?"

Azzy places a great deal of trust in this old Gaoler when it comes to defense of the clan. At times, he may be spotted buried in his mane, tired from the day's shenanigans. Erza doesn't quite understand why this is, but as long as he doesn't cause the clan troubles, it's alright.

Erza
Snowy

___________________


"You have no idea how happy your being here makes me, love. Everything's better with you around..!"
Seeing as how they're from the same world, Azzy and Snowy have a lot more history than they do with anyone else in the clan. He credits his name to them, and they're rarely seen apart (especially when Azzy is bummed out)... what these two have is a love that transcends worlds. They make Tatiana and Briar jealous.
Thanks to CeilingFen for brewing his mane!
Bolt on Discord wrote:
azzy @ swipp: I NEED ALL OF YOUR CARDBOARD, MARKERS AND TAPE, IMMEDIATELY, AND I WILL TRADE ANYTHING TO GET THOSE

....AND SCISSORS
(He made Edmund's Nocturne mask.)
Salteas on Discord wrote:
(azzy voice) im not a fandragon. yes i am. no im not
Absinthine on Tumblr wrote:
i don't know what it is about azzy but i would not trust them ever. they look like they'd try to be my friend only to take my soul for their cool cursed object collection
3/10 gives off the same vibes as someone biting into a glowstick
(7/22/21)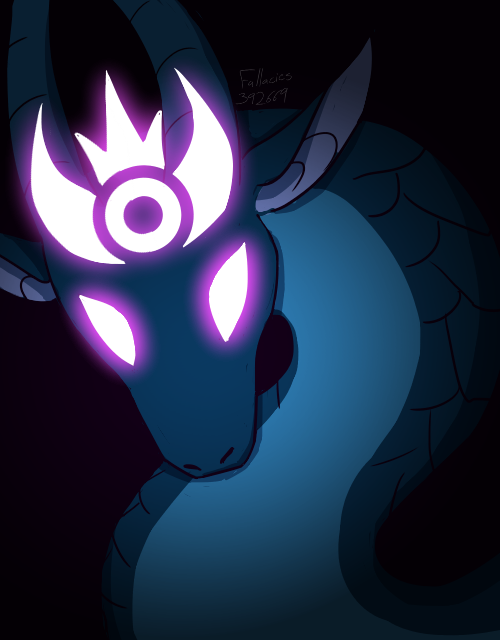 Amazing art done by Fallacies in the DTDAY thread!
Wonderful art done by Exastasy in the DTDAY thread!
Cute art done by MissyZero in the (B)DTDAY thread!
Beautiful art done by fallenfyre in the DTDAY thread!
Absolutely sublime meme done by Dfinch in the (B)DTDAY thread!
(10/1/21) It's him and Snowy!
Demon of Paradise
Resources:
x
x
x
x
x
Click or tap a food type to individually feed this dragon only. The other dragons in your lair will not have their energy replenished.
Feed this dragon Insects.
This dragon doesn't eat Seafood.
This dragon doesn't eat Plants.
Exalting Azzy to the service of the Arcanist will remove them from your lair forever. They will leave behind a small sum of riches that they have accumulated. This action is irreversible.
Do you wish to continue?
Names must be longer than 2 characters.
Names must be no longer than 16 characters.
Names can only contain letters.
Names must be no longer than 16 characters.
Names can only contain letters.