Dragon Lair
Nesting Grounds
Gather Items
Clan Profile
Hoard
Messages
Merch
Marketplace
Auction House
Trading Post
Crossroads
Custom Skins
Fairgrounds
Coliseum
Dominance
Dustcarve Dig
Forums
Dev Tracker
Which Waystone
World Map
Search
Dressing Room
Scrying Workshop
Game Database
Encyclopedia
Media
Support
Press or click to Save this image.

(NOTE: Some browsers or ad blockers may require you to do this manually with a right click or long press on the image above.)
Exit Scenic Mode.
Expand the dragon details section.
Collapse the dragon details section.
---
Personal Style
Apparel
Skin
Scene
Level 1 Spiral
---
Biography
---




I

S T A U V A H L


minor noble of the Queen's Advisors, holder of wishes


---
a
b
o
u
t
The glimmer and splash of a coin tossed into a well. The snap of a certain piece of bone, the larger half held tight. A fervent prayer sent out to nobody in particular. Any of these might summon him, if the need is desperately felt, if the wish is sincere.

Most don't see him come. If they do, it's only in glimpses - the gleam of gold from a too-dark shadow, a curling plume of smoke, the bright flash of a fleeting smile - and quickly forgotten. That's how he prefers it. Better that he remain a mystery, lest the wishes grow ever more demanding - and really, what better reward than the happiness of the wisher when he presents them with their deepest desire?

Oh yes, he treasures the results of his work. The child's delight when they wake to a kitten on their pillow. The artist blessed with just the inspiration they sought, working long into the night on their masterpiece. A long-pining lover given a night with him instead, a new craving they can't shake. An enemy leader found mysteriously killed, accusing fingers pointed every which way. Just what they wanted, and he so happy to provide.

Be careful what you wish for, they say - and Istauvahl laughs. Be careful, as if they aren't just as much at the mercy of their desires as he is. They can't help wanting, and so he must provide - what more could he wish for?
---

MEANING
PRONOUNS
THEME
wish-grant
he/him


♫

PRONOUNCED
ORIENTATION
TRAITS
iss-tau-VALL
pansexual
benevolent,
impartial, amoral

---
N

AME

(their relationship)
Aliquam euismod nulla ut ipsum tincidunt, id accumsan ligula molestie.

k
n
o
w
s
---





g a l l e r y
F
LETCHER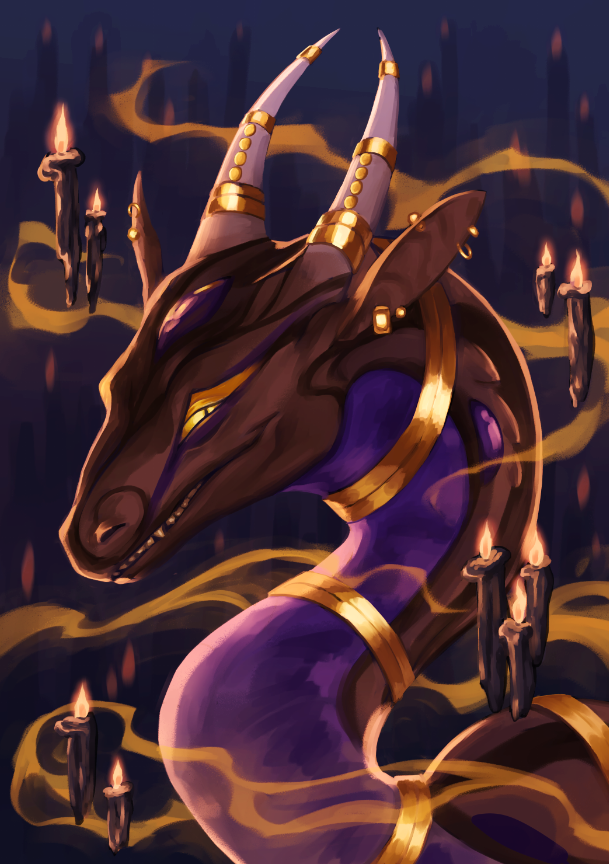 L
ATICAT
w i s h e s
hoarded items
always looking for

any silk apparel (esp. gold)
any starsilk apparel
any flowerfalls (esp. marigold, dried, tigerlily)
any sage apparel
any dried tea apparel
any unhatched eggs


familiars i don't have


art
lair reviews

genes/breed changes

¯\_(ツ)_/¯

this section became hilariously out of date but i can always use:


dragons to wear these


Click or tap a food type to individually feed this dragon only. The other dragons in your lair will not have their energy replenished.
Feed this dragon Insects.
This dragon doesn't eat Seafood.
This dragon doesn't eat Plants.
Exalting Istauvahl to the service of the Lightweaver will remove them from your lair forever. They will leave behind a small sum of riches that they have accumulated. This action is irreversible.
Do you wish to continue?
Names must be longer than 2 characters.
Names must be no longer than 16 characters.
Names can only contain letters.
Names must be no longer than 16 characters.
Names can only contain letters.