Thundercrack Carnivale 2016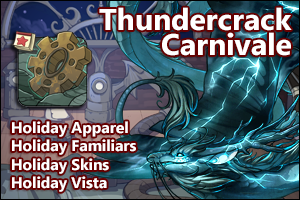 This month, all of dragonkind come together to participate in the
Thundercrack Carnivale
. This festival celebrates the
lightning flight
. Our most prized possessions,
Charged Sprockets
, can be found by using any gathering profession in the lightning territories this week. Neutral and lightning-aligned monsters also have a chance to rarely yield these items as drops
in the Coliseum.
They may be crafted at
Baldwin's Bubbling Brew
using alchemy reagents.
Sinuous Swaps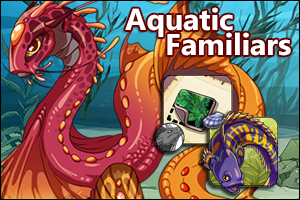 Aquatic trades, gathering unlocks, woodland path skins, and artwork updates are some of what you'll find in
today's update.
Community Update, July 2016

Table of Contents
Volunteer Moderators Updates

Farewell, Alphaeon!
Welcome, EmiT and ToxieToxie!
Misc Moderation Notes

Community

Reporting: Harassment, Scamming
Offsite Content Policies
Item Caption Contest

Employment Opportunities: Art Team
Click here to read more!
Registration Window July 18-22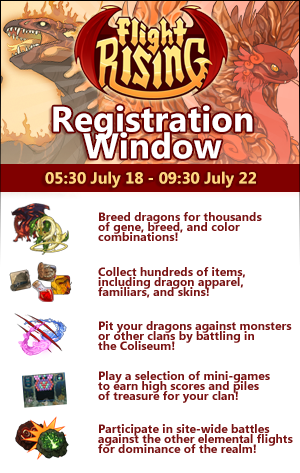 We are happy to announce that
Flight Rising
will be
open for a new player registration window July 18-22
. Registration will be available at 05:30 server time on Monday July 18th, and close at 09:30 server time on Friday July 22nd.
Click here to read more about today's update.
New Apparel: Gladiator's Garb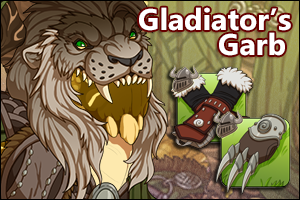 Many dragons are adopting leather armor with a fearsome visage. Will your clan don the Gladiator's Garb?
Check out today's update to learn more.
Collapsix's
Salt
- Lvl 1
For
today only
, exalting dragons that meet this criteria will net bonus riches!
Tangerine
Secondary
+
2500
Snapper
Breed
+
1250
Current
Gene
+
1250