Dragon Lair
Nesting Grounds
Gather Items
Clan Profile
Hoard
Messages
Merch
Marketplace
Auction House
Trading Post
Crossroads
Custom Skins
Fairgrounds
Coliseum
Dominance
Dustcarve Dig
Forums
Dev Tracker
Which Waystone
World Map
Search
Dressing Room
Scrying Workshop
Game Database
Encyclopedia
Media
Support
Sup! What how y'all doing? I got some mail for you
Click or tap to view this dragon in Predict Morphology.
Expand the dragon details section.
Collapse the dragon details section.
---
Personal Style
Apparel
Measurements
Genetics
Platinum
Cherub
Shale
Peregrine
Shale
Underbelly
Level 1 Tundra
---
Biography
By Akesari
Human Age: Mid Thirties
Tries to be serious like his brother but tends to fail. He is a very charming personality is also telling others to follow their dreams.
Does deliveries for this his brother and the clan. Also is the flying instructor/athletics teacher when he can.
Is a retired High Flyer athlete and was by no means the best but he did pretty well. It was his dream job ever since he was younger. He flew in the class section for Tundras and only did long distance races. Stamina seems to run in his family. His job did put some stain on him and his brother relationship. They were the only two eggs of their parent's nest and he was the only one that was able to fly. His younger self never did stop and think to see if his older brother was lying about not care that he can fly but he now knows that it hurt. It hurt his brother to see him something at the could not but Phobetor never discouraged him from being a high flyer. He came to all of his games and practices when he could. Would make him stop if he was pushing himself to hard with the use of couple strong words. Swore he was his biggest fan and claimed that if his brother ever stopped flying he would be the first in line to kick his butt to the next era. His brother resounding support is something he is forever grateful for.
Which is why he is trying to return the favor by being there for his brother in his time even if does not think he needs it. Morpheus knows his brother injuries hurt him a lot more then what he willing to give credit to. So, it is now his turn to stop his brother from pushing himself to hard. He tried the strong words once but his brother just laughed in his face. Morpheus could have sworn he copied his brother facial expression perfectly. So now he just "plays to his strengths" is what Ivory told him. He is not sure if he was saying to be serious or just being a jerk but it works. He gets his brother to take days off if it is need and will even get Dr. Moon to do home checks on him.
NO FASHION SENSE
He loves bright colors even if they don't good well with fur colors
"AKWishes" wrote on 2018-01-01:
He tries to be a very serious tundra, but always fails. His serious statements are often foiled by his kind face or relaxed nature. He seriously looks up to his brother, but when compared it's easy to see that he is almost nothing like him. Still though, he tries his hardest. It's kinda cute, the way he puffs out his chest and pulls up his shoulders, and tries his best to talk to others with a stoic face.
His Older Twin Brother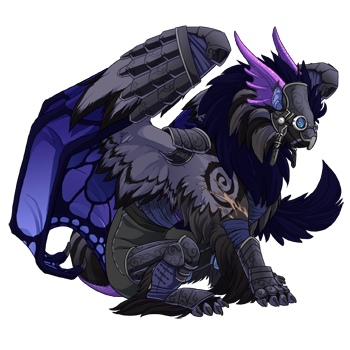 "Snoring Hyena" wrote:
"ShadeSpitter" wrote on 2018-01-05:
Hey Morpheus, do you feel any kind of resentment towards you brother? Or perhaps yourself for not being taken seriously?
His eyes widen in surprise at your first question and he tires get a harden look in his eyes along with a stoic like voice"Resentment towards to my brother? I would never!" He voice returns to his normal level " If anything I would think that my brother would feel resentment towards me.If you have seen my brother then you would have already noticed that his wings are too small to take off. When we were younger I was actually really involved in Speed Flying. I would talk for ages about how I was going to make it big" He advents his eyes gives a small sigh before speaking n a tone that barely over a whisper "I'm pretty sure that it hurt him to hear me talk about it but you know what he never told me that I could not do it." As he utters the last word he looks up at you with an expression that you cant place "NO! He was always the one by my side cheering me on and was by my side when I when I was too retire. He stayed by my side when others left! That's why I would like to be more like him."
As he thinks of your second question he huffs out his chest and gives your a withering glare "I wish that I was taken more seriously tho. All the ladies seem to fawn all over my brother. but when its comes to me they are all like. He speaks this next part in high pitch voice not even suitable for hatchling "Morp you are just sooo cute and they they gave me this laugh" Which he happily gives you an example " I would like to find a girlfriend you know but its makes kinda hard to if all the girls seem to think you are hatchling like for real me and Tor are literally only like 30 secs apart geez.."
Human reference
His hair color is supposed to be black at the roots and dyed white at the rest. He has soft eyes and a slim body type. For clothes just think of bright colors that don't go together and put them all in one outfit. He generally wears hoodies and sweats just like his brother.
By Kaito
Click or tap a food type to individually feed this dragon only. The other dragons in your lair will not have their energy replenished.
This dragon doesn't eat Insects.
This dragon doesn't eat Meat.
This dragon doesn't eat Seafood.
Exalting Morpheus to the service of the Lightweaver will remove them from your lair forever. They will leave behind a small sum of riches that they have accumulated. This action is irreversible.
Do you wish to continue?
Names must be longer than 2 characters.
Names must be no longer than 16 characters.
Names can only contain letters.
Names must be no longer than 16 characters.
Names can only contain letters.