Prophecyx's Clan
Get rickrolled
Clan Info
Oh hey, it's you, alone, in an island, how did you get here anyways? Like, its not normal that someone's suddenly in a random island located in who knows where. Its very lonely. Very. You hear drums in the distance... What? You look at the side to see what's happening. You just see a little triangle getting closer. You are indeed, confused. "Now we are ready to head for the Horn!" A male voice sings as others harmonize. "Way, hay, roll an' go!" What the h e l l is going on? You pinch yourself with a random stick to see if this was a dream... nope. "Our boots an' our clothes boys are all in the pawn!" The male voice sings again. Is this... A sea shantie? Oh, pirates. Singing pirates. Oh boy. You see as the massive ship gets closer. "To be rollicking randy dandy-O!" All the voices harmonize as you see the ship is like a quarter away to be in the small island. " Heave a pawl, o heave away!" The song is very catchy to be honest. You see as the ship is in the island, you see some arcane flags coming out of the sides of the ship. Arcane pirates? That's ridiculous. A strange Coatl with a paper mask looks at you from the ship... Is this a joke? "Hello matey!" The voice chimes. "Watcha doin' in here?" You are way to confused to even speak. "I'm going to take that as a 'I'm lost and need help." The Coalt speaks again, she didn't even have a pirate voice. A ladder comes out of the ship as you steadily climb it. The Coatl suddenly pulls you up, and smiled at you. The ship looks rather clean and somewhat new. You see a peculiar Snapper (Thunderstorm) chopping fish and putting it into a stew. There's a Banescale building more details to the ship, a blue guardian talking to a fae. Everything looks so calm and clean in here. "So, howcha get in that isnan'?" The Coatl asks once more. You don't seem to speak. "Hm, yea me too." She mocked the fact that you didn't speak, the ship looks very active, as you decide to concentrate on it. A beautiful, golden colored imperial walks by you, not even looking at you, there's some children play-fighting with a constellation-like Skydancer watching them, he waves at you friendly. The Coatl notices how much you are concentrating on the ship rather than her question she decided to leave it to you to explore the ship.
Just took this test because yes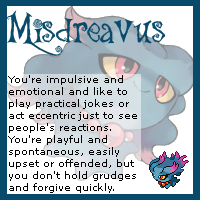 Recent Comments
HELLO I HAVE SEEN YOU HAVE FORGOTTEN ABOUT MY STORE. 50% OFF EVERYTHING IF YOU GET IT BY FRIDAY. GOOD LUCK
Delete this comment.
Report this comment.
Add this player to your Block list.
This user is currently active.
This user is currently idle.