LuminAgricola's Clan
"I never saw a clan so keen on having babies."
Clan Info
We are a BREEDING lair! Now that I have a maxed-out Den, any dragon I purchase will have a berth there forever, with no risk of being exalted. However, they will definitely be bred. Yes, if you sell your unbred dragons to me, they will HAVE BABIES!
- Also, my breeding program has a naming system. If I buy your named dragon and rename it, it's probably not that I hate your taste in names. I just needed its name to start with another letter. :D
=======
Hi, I'm LuminAgricola. I'm the mother of longtime FR player ArgenteaMoon, who has finally managed to persuade me to try it out. :)
I chose Nature because I like plants, and usually seem to choose the farming or other plant-based activities in any game I play. 'Agricola' is the Latin word for 'farmer'. I've used this name online for many years, so if you find a LuminAgricola anywhere, that'll be me. :)
My favourite colours are usually dark blue and purple, so Moon expected me to give my custom progen those colours. But I couldn't resist making my Nature dragon all in green.
That's her in my avatar. She's called Verdance. And in my eyes she is *best-looking dragon ever!* My lair has gained a couple of blue and purple dragons since, though :D
EDIT: *cough cough* More than a couple, between purchasing and breeding...
This is Verdance: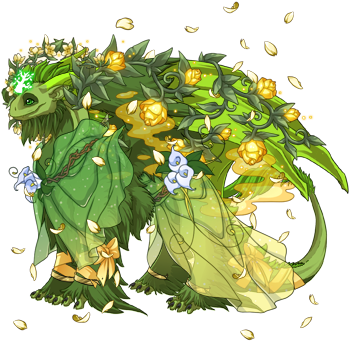 =====
Can I buy one of your dragons?
No, they aren't for sale.
Why do you breed all those dragons, if not for selling?
Having. Number of dragons needed is always n+1. Even when I exalt a dragon, it's still mine and exists in my lore. If I sell it to you, it isn't mine any more.
Is there any way at all that I can acquire that awesome dragon you have?
Not any more, no. I saw one too many reminders that once a dragon is in someone else's lair, it's theirs and they can do whatever they like with it, no matter what they may have said to the previous owner.
I'd assumed that a person who didn't like the fact that I'd only give away my dragons in specific circumstances would, y'know, just decide not to take the dragon.
But apparently there's a large contingent who feel that they're justified in
saying
they'll follow any preferences the previous owner may have had, but promptly ignoring them once the dragon is in their lair, on the grounds that it's against the rules to place any requirements on the transfer of ownership, so they're allowed to lie about planning to do as requested.
That being so, I'm no longer willing to let a dragon leave my lair to go anywhere except to family or the Gladekeeper. Apparently they're the only ones I can trust. :P
Recent Comments
Wow! I think it's super neat that you keep all of the dragons you breed (or send them off to the Gladekeeper yourself)! You're the only user I've seen who does that and I really appreciate the concept.

Keep enjoying your dragons! :) You have such an impressive horde.
Love your name and love the way you love all your babies. And yes, I agree, Gladekeeper is the safest place for those who have earned that highest of honors!
Thanks, I was excited to find it as I think it's perfect for me! If you click it, it'll take you to a thread with lots of really gorgeous free signature art.
Thanks a lot for your forum signature message, today I learned something new! I think there will be multiple people out there who can benefit from that :)
Delete this comment.
Report this comment.
Add this player to your Block list.
This user is currently active.
This user is currently idle.