JinxxYouOweMe's Clan
Rise in abandon of the Flesh
Clan Info
hello
send me dinosaur facts & bad puns
can't stop buying art
(wishlist is at the bottom)
I don't ignore people on purpose! If I don't reply to a message or a ping, it means I didn't see it or got distracted before replying. Feel free to message/ping me again!
Jinxx | she/her | 22 |



I'm on the GASP pinglist, so if I miss any pings please message me! My ping notifications are always flooded.

wildclaw, veilspun, undertide, aberration, & mirror lover <3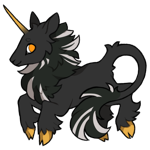 Check out my Cerdae!

art by Hearthdragons (#506202)
This lair does not exalt dragons that I am given or that I bought, I only exalt dragons I have hatched myself
I accept random friend requests and PMs!

headshot by Hawkeyyee (#146802)
*under construction*
*lair has been under construction for over four years and will probably never be finished lol*
-ORDER OF THE SHADOW-

Shadows Unveiled
*intro/describing goes here*

(Act: 1) Consecration
*beginning of the clan goes here*

(Act: 1) Penance
*backstory/more describing?*

Remains of Eden: II
*current life*

Order of the Shadow (The Heretic Awakened)
*i don't know, something deep and meaningful?*
What you pray for
A maimed savior
Bathed in rancor to punish their behavior
Your institution of persecution
One solution to start from a clean slate
He doesn't say that he will save us
Behind a serrated grin
He fails to hide his serrated grin
Nominie dei nostri satanas luciferi exelci

Psyclon Nine. "Behind a Serrated Grin." 2005.
WISHLIST:
Accent: Golden Gladiator
ANY ACCENT/SKIN BY Echinoderma (#12881)
Skin: Solstice Rosette
Any Goblincat skins/accents
Any hellieace (#36905) skin/accent
Any xuiya (#350072) skin/accent
Accent: Spirit Chronicles.
Skin: Ossein Horror
Pretty much any of the skins or accents with "Acolyte" in the name
Recent Comments
No worries at all, I couldn't remember the lister at all so wasn't sure if you were them or not! Thank you for replying, I hope you have a wonderful day~ ♥
Delete this comment.
Report this comment.
Add this player to your Block list.
This user is currently active.
This user is currently idle.