Rangersand's Clan
Plague Flight Greeter
Clan Info
WELCOME!

fr +3
All Dragons named after LoTR characters or Elvish words (Mainly Sindarin and Quenya)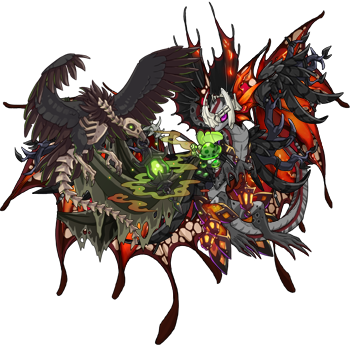 Mordor founded our humble clan, originally roosting in the arcane domain before finding true purpose and home among the rot and scars of the vast wastelands of the plague domain. She and Sauron fought to keep a disparate group together until they were a family, a clan. Not all the dragons 'like' each other but they all will fight tooth and claw to protect their own.
Gothmog and Calen protect the young hatchlings, mates for life and even longer.
I love getting friend requests!
Frill, orb, and weaver genes for abberant bbys
Plague looking apparel
Sneks of any kind
Meat and insects are always needed




Recent Comments
Thank you so much! ;v; That skin was actually a gift from a friend shortly after I got him because it was just too gorgeous and they agreed. I'm glad to see other people enjoy him as much as I do!
Delete this comment.
Report this comment.
Add this player to your Block list.
This user is currently active.
This user is currently idle.