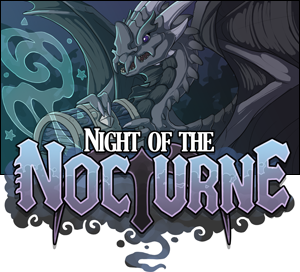 Welcome to the Night of the Nocturne Chest challenge! This is our second NotN Chest challenge, so tweaks to the requirements for modes will happen throughout the event. As it was last year, we have two wonderful weeks to collect ALL THE THINGS!
As always, the goal is to get several
Strange Chest
Drops, or an
Unhatched Egg
while challenging each venue! This month, you can also finish a venue by collecting x1Familiars, or a Vista! From the Training Fields to the Golem Workshop, you'll take on each venue until you reach the requirements to move onto the next. If you've stayed two hours in a venue, and still have not met the requirements, you are free to move on to the next. There are several different modes for this challenge, and you are free to do any mode you choose. Each mode has their own rules, so pick carefully!
Blitz Mode
- Spend only 30 minutes in a venue unless you meet the item requirements for Normal Mode to move on. Perfect for those short on time!
Normal Mode
- Nab a chest, find 5 familiars, or find an egg!
Hard Mode:
- Grind each venue until you get all the familiar drops for that specific venue AND 5 chest drops. Not for the faint of heart, this mode ignores how much time you've spent in a venue. Got a familiar or two already? Nope, stay til you get 5 chests.
Extreme Mode:
- Grind each venue until you get 5 chest drops AND x40 NotN foods.
When you start, please ping me to let me know you're starting the challenge. When you finish the challenge, feel free to ping me again if you'd like to be pinged for next month's challenge. While going through each venue, you'll post any notable loot you pick up. This includes currency, familiars, battle items, containers, apparel, and chests! The easiest way to do this is to make a post as follows:

Training Fields

- Time spent:
- Chest drop:
Code:
[item=strange chest]
- Notable loot:
Code:
[b]Training Fields[/b] [indent]- Time spent: - Chest drop: [item=] - Notable loot: [item=][/indent]
Please keep three or less venue lists to each post
. I'd prefer it be one per post, but I understand it's easier for people to keep track of them with less posts.
Good luck, and have fun!