(Updated the apparel a little bit :3)
Day 103:
The dragons had gathered up what few belongings they had and all gathered just outside the hut. Ajax had retreated to the shadows, busily staring at Stormi. The puppet was clutched tightly in his claws, as if he were remembering what it had done in the last moments of his sister's life.
Myu had finally finished his project with Ash's feathers, and now wore a plume of purple feathers by his horns, woven together by some sort of jewel-adorned string he probably stole from somebody else. The guardian fussed about it everywhere he went, and growled at anybody who so much as looked at it funny.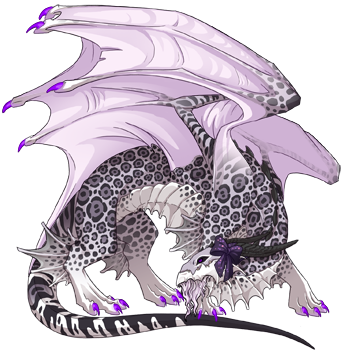 August had also managed to slip back into consciousness, though he hobbled slightly when he walked and was frequently dizzy. The skydancer constantly had to lean against Opal, who tapped his face once in a while to make sure he wasn't dead. August now had thick, blood-soaked bandages wrapped around his chest and neck, stemming the blood flow of his horribly deep wound.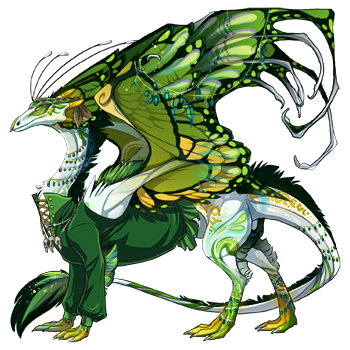 Even Aurora had readied herself for the trip. The coatl had woven together a loose sling that hung around her neck, with the four precious eggs nestled safely within. It rested against her chest, and she didn't dare move any faster than necessary for fear of harming the eggs in some way.
"We're not bringing any food with us."
Satira remarked in her wispy voice, weakened, perhaps by trauma, ever since the emperor battle. Jade, who had once again braced herself behind her mental shield, gave this remark no more than a thought.
"We can hunt in the forest."
She reminded the nocturne.
"We're dragons, after all. Not caterpillars."
"Caterpillars would do very well in a forest."
Satira pointed out, the corners of her mouth twitching upwards.
"They eat leaves."
Jade snorted and rolled her eyes, turning away.
"You know what I meant."
She snapped, her voice devoid of laughter. Satira flinched away, looking hurt. Ajax raised his eyes for a fraction of a second to shoot the nocturne a sympathetic glance.
"Are we all ready to go?"
Jade asked, oblivious to her son's fugitive looks. Aurora hesitated again, fingering the sturdy leather slung around her neck. But Rikki's voice comforted her before she even had time to open her mouth.
"You'll be fine, luv."
The gentle bogsneak assured her with a warm smile.
"The group's going to stick together. You'll protect one another. Nobody here will let you or your eggs come to harm."
She insisted firmly. Aurora smiled gratefully at the bogsneak, feeling a lot calmer.
"Thanks, Rikki."
She murmured.
"I'm glad you're coming with us."
The bogsneak hesitated.
"Actually, I'm not."
She blurted sheepishly. Aurora blinked in confusion.
"You're. . . You're not?"
She echoed. Rikki shook her head sadly.
Everyone seemed to share Aurora's confusion. Nobody had heard anything about the bogsneak leaving.
"Where will you go?"
Jade asked, her expression unchanging. Rikki shot the spiral a knowing smile.
"To The Ashfall Wastes."
She said without missing a beat.
Jade tilted her head curiously.
"Why?"
She wondered. Rikki shuffled her feet guiltily.
"I. . . I've been sort of pulled there recently."
She explained dodgily.
"Weird visions, an uncontrolled desire to feel warm. . . I think I need to be there. For some reason."
To Aurora's surprise, a smile rose to her own face. The coatl spread a wing and nudged Rikki's shoulder gently, conveying that she understood.
"We get it."
Aurora said before anyone else could speak up.
"You might be needed there more than you're needed here."
Rikki grinned thankfully at Aurora.
"Thank you for understanding."
She murmured.
"I will return someday. But for now, I believe I must go."
The bogsneak looked far more prepared than the rest of them, which Aurora was startled to realize she hadn't noticed sooner.
A satchel that hung at Rikki's side was bulging with little necessities, like potions and a little food. It wasn't any cold where she was going, so her scarf hung limply around her neck, but the bogsneak stilled looked ready enough to trek all the way to Dragonhome. Romeo and Juno both looked crestfallen at the news, losing their previously humorous demeanor.
Before the bogsneak knew it Romeo barreled into her arms, wrapping his lanky arms around Rikki's neck in a tight hug. Juno quickly followed, nudging Romeo a bit to hug the bogsneak herself.
"You'll come back soon, right?"
Romeo asked nervously, his voice muffled by the bogsneak's scales.
Rikki slimed and pulled away from the two dragonets.
"Of course, you two."
She assured them with a teasing glint in her eyes.
"I'd never leave you all for long."
Juno laughed weakly.
"Good luck."
She said, releasing Rikki's neck.
The bogsneak chuckled, slowly sweeping her tail through the air behind her.
"Good luck to you all as well."
She replied, gazing at her clan with nothing other than pride.
"I hope to see you all very soon."
And with that Rikki spun around and lifted into the air, spreading her wings and soaring towards the Ashfall Wastes, leaving her former family behind her.
---
@AmberHive @mayanaz @Spottedleaf125 @Skyeset @Moon314 @WildRose42 @PrussianWizards @Firedawn @Dragondreamer @Shadow104 @ScaledBookworm @LuminusPrime @CrAZDragon @DragonMist @Shadowhunter43 @Digimon11 @Avu42 @MythicalMemeLord @Vyxen @VioletEevee @Verdant @Sanddollar @Faolyn @Bluebirdi3 @ThornOfStorm130 @ObsidianMage @TropicalDiamonds @fenshae @Birdleap18 @SpiceCookie @Catkidemma @WOF2012 @Chbosser @L1llysage
Rikki will be taking refuge in my friend @
WhoOwlborn
's lair for the time being ^w^
I have lore plans that involve this, but she's not that interesting a character now
Wait and see what'll become of her ;D