Please note, these changes are in, but it may take a few hours for the site's tooltip cache to update.
Synchromial wrote on 2016-11-28:
I'm noy sure if anyone already submitted this but
for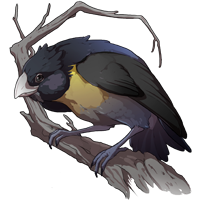 The name says GoldThroated Sparrow, but the description says "gold-throated sparrow" sooo
They should match now.
After wrote on 2016-12-14:
should be "led," not "lead."
Corrected!
LadyRiat wrote on 2017-01-02:

The tooltip lists the holiday as "
Rockbreake's
Ceremony," forgetting the final r.
It has been corrected, and an apostrophe also put in the name to indicate the possessive.
KaizerinJ wrote on 2017-01-14:
It's missing the period (.) at the end of the flavor text.
Corrected!
CapnNero wrote on 2017-01-15:
"Its" should be "It's"
Corrected!
FaerieIshee wrote on 2017-01-30:
Corrected!
vetica wrote on 2017-02-05:
"While many species of cardinalfish will coexist with urchins, the longfin population with harass and clear the area of them. They are considered a nuisance-fish by many dragons."


I think with is supposed to be will.
Corrected!
tehcoffeezombie wrote on 2017-02-06:
<-- should be a spearman, as he isn't a legion on his own.
Corrected!
C0de wrote on 2017-02-06:
Winged Barb
Insect


Oh… oh. So scorpions can fly now.

Sell Value:
37



Food Points: 4

itemAttachHandlers("#962")





It has a bit of a freakout in the coli, where is instead says "Oh… Oh. So scorpions can fly now?
Corrected!
Seriema wrote on 2017-02-06:
Not really a typo, but
Scorpions are not insects, but arachnids.
Corrected!
HenryTheArcher wrote on 2017-02-23:
Rockbreakers Ceremy Holiday Item 2013 doesn't have a year in item caption.
I thought first that it's because of character limit but there are other Holiday Items that have more characters in their item captions than Eroded Crystalhide.
Not too sure about the case but pointing it out anyway.
Corrected!
THATSFANTASTIC wrote on 2017-03-05:
This has probably been reported already but this bothers very much (for a silly reason of course, but still..)so i'mma (maybe) reporting it again! Teardrop should be written first. It's all flippy floppied... }':
Corrected!
paintminion wrote on 2017-03-09:
Heyla! Have an edit for you!
Should sub "woven" instead of 'weaved' in the text for this item.
For example:
She weaved in an out of the bushes while chasing a swamp mosquito.
Baskets are woven with reeds and grasses.
Corrected!
Silmarillion101 wrote on 2017-03-14:
The Green Plantain food item tooltip reads: "...can be kept for long periods of time in cool place."

I believe this is meant to say either 'a cool place' or 'cool places'.
Corrected!
Ellapinky wrote on 2017-03-14:
Someone should sticky this. Just a thought.

Tomo Questiion:
"Which Beastclans inhabit the Southern Icefield?"
One of the answers:
"All Beastcland except the Serthis."

Beastcland -> Beastclans
Corrected!
SilverDeath wrote on 2017-03-15:
The item is called a Shed Fuschia Scale.
Shed Fuschia Scale --> Shed Fuchsia Scale
Corrected!
Shidoo wrote on 2017-03-16:
On the answer options of the Tomo question "This dragon is a sibling of Pinkerton" there is a typo in Swipp's name, it's spelled with a single P instead of a double.
Corrected!
Maki wrote on 2017-03-17:
From Tomo's Trivia Tablet:
Quote:
In which venue might one encounter a sprangryroo?
Sprang
r
yroo instead of Sprangyroo.
Corrected!
Sky93 wrote on 2017-03-27:
Tomo asked a question, saying this. Punctuation problems.
Corrected!