Meet Kazimir and Lyuba: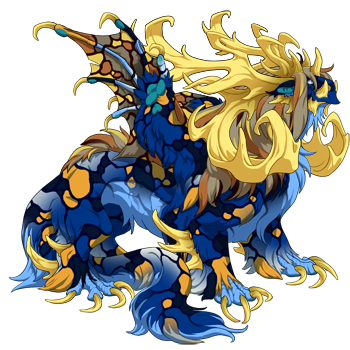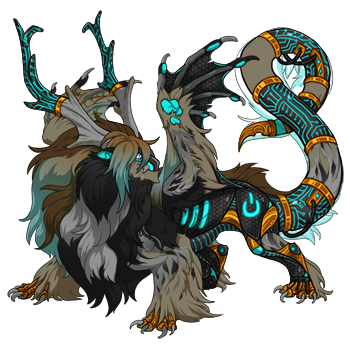 They are Ice G1s I used my scrolls on when the Gaoler rollout happened, because in order to add a new breed to my lair I needed lore, and in order to make the lore work (because I always make things hard on myself), I needed them to be Ice G1s. They are finally, fully gened. Which means I can now scy these destined mates together (whose gene plan was set before Gaoler gene tiers/rarities had been determined), and discover what their babies would look like.
Well. If I had wanted to write lore about a sinister couple that hunted clowns for sport and gave their skins to their children to wear as they grew, they'd be perfect for each other.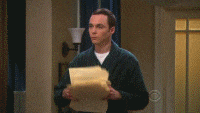 So I've gone through the five stages of grief in rapid sequence, and decided they each need new mates. They are gorgeous individually, and Kazimir's lore has already been written. Lyuba's hasn't, largely because it never quite gelled, and this just gives me an excuse to write some to match the lovely Thundercrack skin she looks so nice in.
SO. The singles, and my wants for mates for them. I'm going to be picky **- and will pay accordingly- because I've already invested so much in each.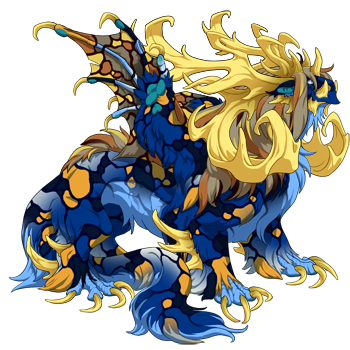 This is Kazimir. He likes art, colder climates than the one he lives in, and taking prisoners. He's cobalt mosaic/stone breakup/banana gnarlhorns. He is lovely, and his genes and colors are, as I'm learning. Difficult.
For him, I would like EITHER:
- a female Gaoler of any element (enough time has passed to satisfy my lore requirements) and either genes of a lower/equal tier than his- uncommon or lower primary/secondary, rare/gem gene only tertiary. I can make a gene project of her if she has reasonably complementary colors, but obviously I will pay less and be pickier about color range.
OR
- an ice G1 with a very tight color range to him. Mosaic/breakup is a harsh mistress, yo.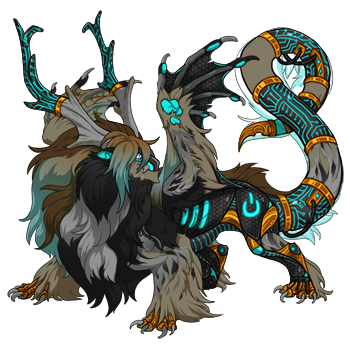 This is Lyuba. She likes clear black-and-white distinctions in her morality, bolts from the blue, and taking prisoners.
For her I would like EITHER:
- a male Gaoler with genes of almost any tier that are not as ah, colorful as mosaic or breakup, with colors that are within a reasonable range of hers as long as the genes aren't going to be adding too much x-factor. I would love it if his colors were as naturalistic as hers, however (black range/brown/brown with an overall "wild" look) and will pay more for that.
OR
- a male Lightning G1 with naturalistic colors. Not sure how CLOSE a match I need for her, and I'd also happily take a Lightning-y look that matched up OK with her colors (Black-blue/red/yellow-orange maybe?). If it's a G1 I'll be making a geneing project of him anyway.
I will pay: in treasure, in gems, with my firstborn if your dragon is everything I could have dreamed of. I may need to work out mixed payment or a plan/schedule, but I'm willing to go pretty high for this- just scaling to how much I'll need to spend on the dragon to get it into shape for breeding.