BUYING OLD DRAGONS WITH ART
Thought I had better put my art skills to use to try and nab a few old dragons for my hoarding purposes.
NEW GOAL!!
Acquire a 3 digit Imp... because reasons...
Quote:
Please note: I may eventually fall out of love with an oldie and will sell it on for gems. If you wish to be notified of this to buy back, then by all means tell me/pop a note in the old dragon's bio and I will do my best to stick to it!
What I'm looking for:
Anything really! I love any and all oldies that are 6 digits and older. I'm not too fussed about hatch date or eye color. I have a high preference for shorter offspring lists and no unnameds/'exalt' names, but can tolerate them if they're hidden well enough.
I will still look at oldies with unnameds visible.
I've worked unnameds into my lore I can very well do it again!
Quote:
Bonus Points:
A.K.A things I love in dragons/oldies
Unbred/no offspring scrollbar/9 or less offspring
Black range/Red range/White range
Blacks/Purples/Reds/Creams/Golds/Blues
October 1st hatchdates
October 5th, 10th, 15th hatchdates.
Funky IDs
Doubles (XYX, XXY mainly!)
What I can draw:
I will do my best to draw anything that you desire! Obviously dragons are by far my most strongest aspect, but I am also very good at animals/anthros and a dab hand at humans.
I'm shaky on birds and mechs, but I have had a go at them in the past; still, fair warning that they are not my strong point.
I
will not
draw NSFW stuff on site. I don't want to get banned! No backgrounds either, unless they're a single color or something. Landscapes are
not
my forte either!
Quote:
Dragon : Gems Ratios:
Please note these are baseline prices that I adhere to the IDs only. A dragon's value will go up based on other attributes that we can discuss when making a deal.
6 digit dragons = 250 gems
5 digit dragons = 4k gems
4 digit dragons = 30k gems
3 digit dragons = 90k gems
Anything lower and I'll give you my first born child.
Art : Gems Ratios:
Lined Bust = 300 gems
Colored Bust = 700 gems
Lined Fullbody = 2000 gems
Colored Fullbody = 4500 gems
Shaded Fullbody = 10 000 gems
Seeking Old Dragons! Forever collecting October 1st 2013 dragons. Previously BeingOfNature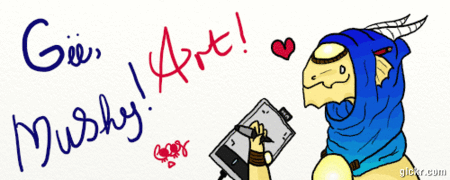 Old Art Thread
3DS FC: 0259-0316-2794 Pokemon Y