One day I was searching the AH for a birthday dragon and kept finding some real cuties, beauties and down right weirdos and I just wanted to share them. Consider this free advertising, lol. None of these are mine, unless stated otherwise.
First up we got...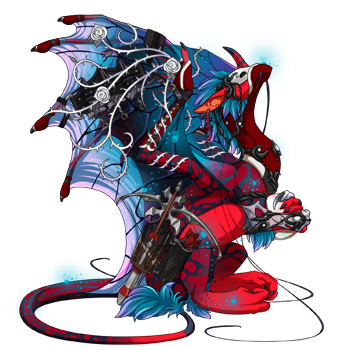 Quote:
Spiderman, spiderman, does whatever a spider can.
Well, spider
girl
in this case.
Hang out for more~ Also, feel free to post your own finds!
~*~
Due to extreme activity I'm adding a couple of rules. Sorry to have to do this... I really love seeing everyone's excitement and sharing stories of the dragons they've gotten here, but it really is starting to accumulate and make it difficult to navigate. (not to mention a headache for us subbed, lol)
So, rules be like:
Everyone is welcome to share dragons from the AH (or their own up for sale), but please try to keep it to a minimum of three shares a day.
Sharing ideas and talking to me directly are welcome, but try to keep chatter to a low. If you want to show off or talk about the dragons you've found here you can head over to Helixstorm's thread:
Here
Thank you all for your continued enthusiasm and use of this thread!
~*~
Here are a couple of badges to commemorate your poor impulse control thanks to this thread!
Courtesy of briar:
Code:
[url=https://www1.flightrising.com/forums/drs/2737352/1][img]https://i.imgur.com/SPguqMd.png[/img][/url]
Code:
[url=https://www1.flightrising.com/forums/drs/2737352/1][img]https://i.imgur.com/W1Dayps.png[/img][/url]
~*~
Pinglist:
Ellapinky gardenkeeping Kdragon EmeraldJubilee Sleepyhippo1 LunarKitsune777 Dachshund59 Skullcandy982 pazoots Thunder FantasyMyth
Recallback DarkYnx tilkka LizabethRoxYou JamminWithJimon SummerStorm Kipuka GaelicVixen Harmonywish Promare FallenAngel Rytlocks Koneko Hawktalon Apolli Bluwingskitty parasites merrymine smeraldo LunarMoth Whisper22 Sailboat KittyandCat MotherOfFlame snowpool GrimWhor GraveRabbit pluush lucifurLaurens CoyoteGum BrokenEgo Salvation Schmoop novakinn Elilhairrah PurpleHusky Wufflesnuff deersoup SilverRipple MiniPandaBuns SariStar Sweetnest moonstrucksmorns Renmei BunnySox TheAngryAnt Draconequis skeletonworms