Hello, everyone! This is the (new) official information hub for Shadeholders: a "sub-species" of dragons that are connected to the Shade. This subspecies was created by @
wesleydog
along with the information and rules on this thread! I was given permission to reboot
this thread
and keep the shade spreading... Please scroll down for information on owning or breeding Shadeholders for yourself!
Flight/Eye Color
- Any
Breeds
- Any, though Skydancers appear to be most common
Primary Gene
- Any, though Iridescent appears to be most common
Secondary Gene
- Any, though Shimmer appears to be most common
Tertiary Gene
- Gembond, Underbelly, Circuit, Crackle, Glimmer, Stained, or Spines. Underbelly and Gembond are most common.
Primary Color
- A dark or cold color in the black, purple, blue, or blue-green range. Any color from Obsidian to Aqua is acceptable. Occasional outliers will be accepted (ie. Jade) if they are very similar to the color range already widely accepted.
Secondary Color
- A warm color in the yellow-green, yellow, or orange range. Any color from Spring to Tangerine is acceptable.
Tertiary Color
- A shade of white, limited to Maize through Ice.
Shadeholders choose their colors and genes based on the dragon body that Shade first chose - the body of Naomi. Choosing Naomi's body was a matter of convenience, but since then, the Shadeholders have all chosen bodies with similar coloration in order to maintain uniformity. It is much harder for the Shade to learn how to adapt to many different kinds of dragon bodies, so it chose to target similar dragon bodies for all of its drones.
Since the beginning of time, deities and dragons alike in Sornieth have fought against a great and powerful force of evil known as the Shade - a force that threatened to overpower Sornieth with gloom. Even the Shadowbinder, who was most closely related to the Shade, fought alongside the other deities against this force. Though the Shade in its raw form was successfully vanquished by the Eleven, it did not cease to exist. The Shade spread out and attempted to affect the dragons that served the elemental gods. Some dragons were 'shadetouched' and grew very ill and malicious. Some dragons, when touched by the Shade, learned to harness the power for their own personal gain. The relentless Shade even went so far as to possess the lifeless bodies of dragons killed in battle. Exploiting the body of a once-living dragon allowed the Shade to have form; it gave Shade the ability to communicate, to think, and to penetrate Sornieth in the body of a native without raising suspicion.
Shadeholders first came into existence when Shade learned that it could reincarnate the body of a dragon that had already been killed. When the Shadeholder slinks into their corporeal skin, it becomes possessive of its new body. Though the Shade can leave the body at any time, it grows used to the body and keeps it for as long as possible. Shadeholders are able to keep their dragon body youthful by killing other, mortal dragons. Instead of directly killing a dragon, the Shadeholder will cause war and conflict within clans. Any dragons killed in the resulting war benefit the Shadeholder. The Shadeholder is able to add the deceased dragons' years of life to their own body's years of life, similar to the concept of how a Shinigami - something that does not exist in Sornieth - adds to its own life. A Shadeholder could theoretically live forever in its dragon body as long as it continues to cause the death of other dragons and steal their years. As long as dragons exist on Sornieth, the Shadeholders can continue to dwell in their physical bodies.
Shadeholders never become a member of a clan. Instead, Shadeholders reside wherever they can go unseen. They spend most of their time hiding in the shadows, because it is where their primal Shade instincts tell them they feel most comfortable. Shadeholders will occasionally connect to a clan by "attaching" themselves to it. The Shadeholder will remain near a certain clan, causing stir among its leaders and creating the need for battle and death. The Shadeholder will sometimes exploit the same clan for a while, slowly killing off its members while adding to their own lifespan. Typically, though, Shadeholders will not attach themselves to the same clan for long. They wander from clan to clan because it is more exciting to bring misfortune to as many dragons as possible. Very few times does the Shadeholder ever actually come into contact with members of the clan it is attached to. Occasionally, Shadeholders will set up makeshift trading posts and interact with the clan members in order to gain insider knowledge or toy with their victims.
Shadeholders have a hive mind - a group mind with lack of individual identity. Most commonly, the Shade is believed to be an "it" and not a "they," so the Shade must learn to disperse itself into different dragon bodies without actually dividing its identity. The Shadeholder who is most intelligent and believed to be in control of the mind is the first Shadeholder to ever be created -
Naomi
. The subsequently possessed Shadeholders are the "drones." Each individual drone Shadeholder has traces of its own personality, but these traces are believed to be related to the personality of the dragon that originally inhabited their bodies. Occasionally Shadeholders will work in pairs. Pairs of Shadeholders force the Shade to expend more energy on whatever their group is doing because more of itself is present in one place. This makes individual Shadeholders more intelligent in groups.
Most Shadeholders are mysterious, manipulative, evil, and nefarious. They act impulsively, only minding the good of the Shade. They are selfish and simple-minded, cruel, and terrifying. Shadeholders are the things that a hatchling's nightmares are made of. The Shadeholders are guile and clever, because they have adapted to a new body and have learned how to exploit other dragons for their own benefit. They are quick and bright, so they're nearly impossible to outsmart.
A Shadeholder sees itself as being god-like, or rather an anti-god. Their mission is the dispersal of the Shade and eventually complete overtake of Sornieth. They often refers to themselves as "The Prophets" or "Prophets of the Shade."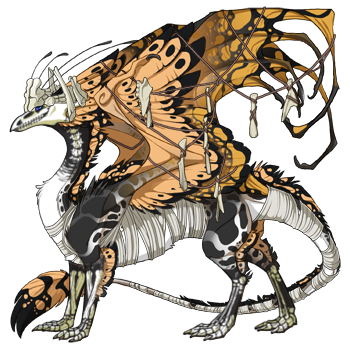 Because Shadeholders have physical dragon bodies, they are capable of breeding and hatching their own children; however, it is very rare that two Shadeholders would be selfless enough to breed, and a Shadeholder will never "love" another Shadeholder. When Shadeholders do breed, it is for the sole purpose of spreading Shade. The only Shadeholder who consistently breeds is the Hive Queen Naomi, because it is her job to ensure that more drones are created. Most of the time, however, the main way of creating more drones is for the Shade to possess more bodies.
Shadeholders can be dragons that had previously pledged their allegiance to any deity, so Shadeholders can be bred in any flight's nests and have any color of eyes. Shadeholders may only breed with other Shadeholders!