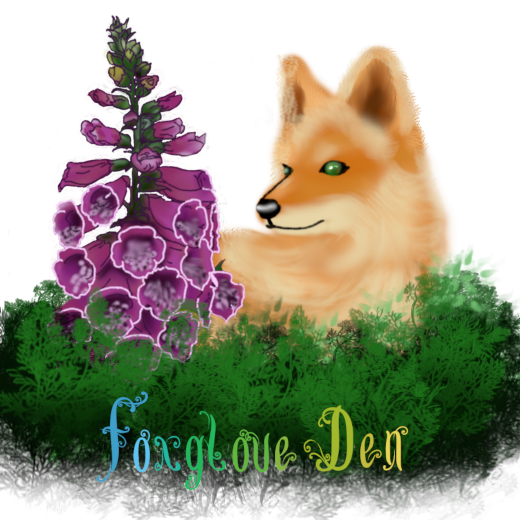 The warm breeze caresses your wings and face as you walk through the large field of wild foxglove. You slowly walk up a large hill, approaching the giant tree that sits at the top. As you get closer you hear giggling. Furrowing your eye brows you move a little faster. If it is one thing you have yet to see here in Foxglove Valley it is dragons younger than a few years. At the base of a tree you see a tangled mess of large roots, vines, and ivy. You sit and listen...there it is again! That is definitely the sound of baby dragons! You approach the ivy, gently parting it with your claws when a sudden amber shimmering magic, similar to the magic you saw Freyia work earlier this week begin to lift and part the way for you. You continue forward into an opening you realize in the tree. Immediately you realize your descending what seems to be a spiral walk way. There are floating candles lighting your way. Once your reach the bottom you see an archway. Walking towards it your overcome with a sweet pleasant smell, similar to fresh hay.

Inside the archway is a large well lit room. You look up and notice the roots of the tree above you, letting in sunlight. Candles line the walls. As your gaze moves lower your shocked to find a small fox kit and a small dragoness! She giggles as the kit playfully pounces at her.
"Welcome!"

You hear Freyia's honeyed voice say.

You jerk your head to the right—nothing. But you do see another doorway into another room, which Freyia now stands in front of. The small dragoness jumps, noticing you and scrambles to get behind Freyia.

"I figured it was only a matter of time until you Found the Den. Why don't you come in and meet the whelps and stay for a while," she smiles softly at you and turns, heading into the other room.


Gem Ratio is 1:850 or 1:1000 depending on the whelp.

All dragons are on the AH, but I AM open to negotiating!

I will hold dragons at my own discretion.

Please name your dragon!
For 5kt I can provide a name and small bio for the whelp!

I am NOT subbed, so please ping me! @Freyia

First come first served.

Feel free to ask any questions!


Discounts DO stack up to 35% off! If you ARE a newbie, I will honor up to 50% off!
Let me know which ones you qualify for!
Nature Flight is 20% off
Plague Flight is 15% off
Ice Flight is 15% off
Newbies are 30% off
Birthdays are 10%off
I would love to receive hatchling letters!