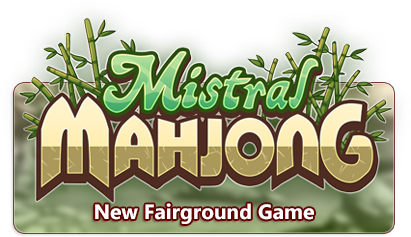 Sit back, relax, and enjoy our newest Fairgrounds mini-game:
Mistral Mahjong
!
---
Mistral Mahjong
is a simple, low-stress
matching game
where picking identical tiles will clear them from the table. Clearing all the tiles will result in a final score and a pile of treasure!
The
difficulty of the tile layout
, the
speed at which you clear the board
, and the
number of shuffles you use
will all factor into your score, so try a few different strategies!
(ABOVE: A tile layout based on the ever-present storm, the Twisting Crescendo)
Technical Balancing Period
As players experience Mahjong, the team will be
monitoring various technical data on the backend
that may result in a few changes or optimizations later. Please be aware that it may be necessary for us to reset high scores or modify scoring, etc. in the future.
Should you have any feedback, please feel free to start a discussion in the
Suggestions Forum
, and if you notice any problems, to post them in our
Bug Report Forum
(please refer to sticky threads in that forum for proper bug posting guidelines)
---
Seasonal Sphinxes
The changing of the seasons will continue to bring new seasonal items. In addition to our seasonal "breeze" apparel (
Summer Swelter
, etc.) and seasonal forum vistas, there are new
seasonal familiars
that will be cycling in during their corresponding season!
Autumn Sphinxes will begin appearing on September 21
and will remain stocked until winter arrives. When they come out of hiding you will be able to find them in the
treasure marketplace in large quantities
!
~
Flight Rising Engineering Team
~
-
Do you want to hear what I said again? Hoot hoot!
Flight Rising
Knowledge Base
Flight Rising Rules & Policies