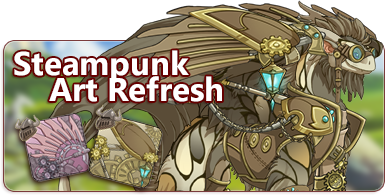 Old equipment gets a new look!
Steampunk Refresh
We have updated the steampunk set with new artwork to better match the line quality and art style of our site.
The brass, bronze, copper, gold, and silver steampunk sets have been refreshed with new artwork!
The old steampunk artwork varied with the wing pieces. Most looked like mechanical feathers, but some looked like armor. We transitioned all existing wing pieces to feathers, but have created an armored wing set for every dragon.
Galore will have a copy of these armored wing sets
for the old apparel colors
available until September 14th 23:59
, so that those who wanted the armored wing set to remain can have them without cost for a limited time. (they are also sold in the marketplace for the same price as feathered steampunk wings!)
All steampunk bundles have been updated to include the armored wing piece as part of the bundle, and the price has gone up to reflect this.
Brass Steampunk
Bronze Steampunk
Copper Steampunk
Gold Steampunk
Silver Steampunk
New Steampunk in Boreal Wood
A new color, the tin steampunk set, now has a chance to rarely drop from Boreal Wood opponents.
Tin Steampunk
Starfall Celebration Skin Contest
The seventh annual Starfall Celebration will begin September 22, 2019, and we're running a skin and accent contest in celebration!
Click here for more information!

Drakeharvest 2019 (September 12 - 16)

Drakeharvest
is back and right around the corner!
Start: Thursday, September 12th @ 6:00 Server Time
End: Monday, September 16th @ 6:00 Server Time
As a recurring micro-holiday, Drakeharvest will include the same
crab familiars
as last year, a
50% coliseum experience boost
, and every monster in the Coliseum will have a chance to drop
extra plant food items
. Time to stock up for the autumn!