Click or tap to view this dragon in Predict Morphology.
Expand the dragon details section.
Collapse the dragon details section.
---
Personal Style
Apparel
Skin
Scene
Level 20 Wildclaw
---
Biography
the following bio is written by Ranes
---
·
·
曾经小小的夜曲离开了家,却并未按照惯例踏上那世代荣辱更迭的战火纷燃之地。他在白龙的到访中望见机遇,终于鼓足勇气向母亲请愿,承载希望而去。
自此,命运扭转。
Rosca,是被冠以沐华龙族氏的名字。
那原本象征八大古龙神血脉的名号,如今被昭然若雪地镌刻于世界树下繁茂的谱系上,他已成为三森林的一员。
他诚然幸运。时隔多年,正因自己的机敏与细致、成熟与懂事,而在一个全然陌生的世界获得了最为稳固的依靠,便是亲情。在沐华与白龙的呵护下,他不断成长。
他见证了下一任继承者的诞辰。
他陪伴小龙一路走来。
他随父母周游世界,学习修炼。
他甚至在不经意间,收获了爱情。
但无论何时,母亲失望的神色,仍长久长久烙印于心底,也正因这夙愿,他蜕变为野爪。
只是不知,可否还有回归的那一天。
也许在荆棘路上伤痕累累,但他并不怯懦。也许在深渊之下折损翼翅,但他未有悔意。令终古之梦鸣奏于苍天,任生命之花绽放于指尖;他的双翼沾染了星尘,他的心灵为岁月所洗炼。
因爱而生,为爱而战。
星翼轮舞,风尘吸张。
未来,他将是睥睨天下的龙王。
·
———
This is a miracle, now ongoing
———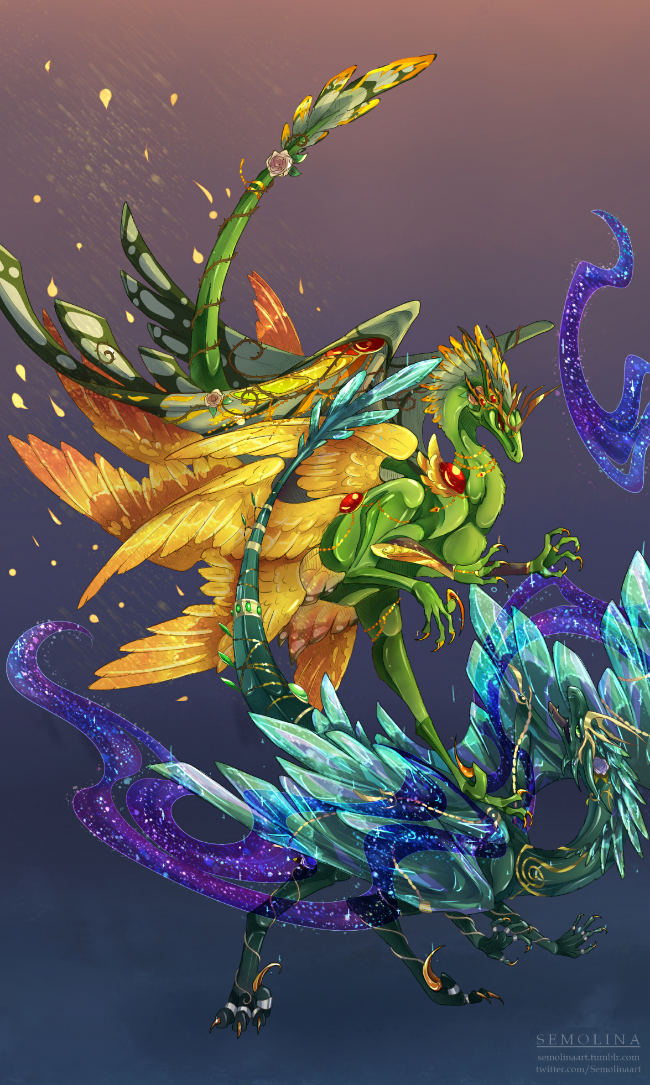 by winged-chen(non-fr's user)
(with
Rathian
(his mom))
by Honeysuckle01
·
·
·
·
·
→实体龙
 Real dragon in Sornieth (Data available in FR)
雄野爪←
Wildclaw Male 
→曾是Rathian与Notics的一只夜曲后代,早年便被Mora与Rosharia
收留,去往名为"Arnia"的异世界。
 Used to be one of Rathian and Notics' offsprings,
a little Nocturne, who was adopted by Mora and Rosharia.
Later departed for another world "Arnia" with his foster parents.
细致、文雅、体贴(源于夜曲一族,如其父)←
Meticulous, Elegant, Considerate 
(Formed as a Nocturne like his father) 
勇武、好胜、沉稳(源于野爪一族,如其母) 
Brave, Ambitious, Calm 
(Formed as a Wildclaw like his mother) 
早熟懂事 
Early-maturing & Sensible 
→最初迎接他降生的是母亲Rathian失落的神色,
自此便被长久刻印于心底。
 The first moment he arrived in the world,
there was the couple waiting hopefully. However,
the mother's expression of disappointment had been
engraved on his heart ever since.
历经一番波折,在龙神Ellora的帮助下,他蜕变为野爪。←
Through many twists and turns, his breed was changed  
into Wildclaw with the help of Ellora, the deity.
(Not in a conventional way like using scrolls.) 
→即便并非血脉的传承者,但他仍破例成为名义上的继承人。
 Although wasn't the inheritor of bloodline,
he made an exception and became the nominal inheritor.
他见证了下一代血脉传承者的诞辰,并呵护小龙一路成长。
Rosie,他的妹妹(但并无血缘联系),终与他成眷属。←
Witnessed the birth of the next bloodline inheritor,  
he has accompanied her all the way in her growth.
Rosie, his younger sister, also his childhood sweetheart,
eventually made him aware that, where the true love lies.
→因沐华龙的特性(生育能力差),与龙种间的隔离,
他们将不可能拥有后代。
 Since it is very hard for Showel dragons to have
progenies(they're a little bit infertile), also due to the
reproductive isolation between the two species, it is
absolutely impossible for them to have any offsprings.
在每年的某个特定时期也会躁动不安。←
His body will also be suffused with restlessness during 
one specific period the day being the shortest of a year.
→钟情于艺术并且极有天赋。(尤其是绘画)
 Always derives pleasure from art,
also have great artisic talent.
星翼是身体器官,不是装备。(相当于器官移植)←
Stars on the wings are parts of the body,
being equivalent to an organ, not equipment. 
→星翼←
曾在远古龙巢中遇险,为保护Rosie而折断双翼。生死攸关之际为凛星龙族远古守护者所救,最终,他的勇气获得了守护者的认可,双翼被重塑以星辰。即便已不如以往的完整,但这并不能阻止他跃动的灵魂。
·
The wings were once broken so as to protect Rosie from danger in The Primitive Den, but fortunately he was saved by the ancient guardian of Nebulex dragons on the border of his life. It was not until the ancient guardian acknowledged the courage of this young Wildclaw that the miracle happened. His wings were reshaped into a form of mystical power from the Nebulex dragons where stars coalesce into a micro milky way.
Even if it is not as intact as it was in former times, it cannot prevent him from rising again.
From now on, the miracle is still ongoing.
Click or tap a food type to individually feed this dragon only. The other dragons in your lair will not have their energy replenished.
This dragon doesn't eat Insects.
Meat stocks are currently depleted.
This dragon doesn't eat Seafood.
This dragon doesn't eat Plants.
Exalting Rosca to the service of the Gladekeeper will remove them from your lair forever. They will leave behind a small sum of riches that they have accumulated. This action is irreversible.
Do you wish to continue?
Names must be longer than 2 characters.
Names must be no longer than 16 characters.
Names can only contain letters.
Names must be no longer than 16 characters.
Names can only contain letters.